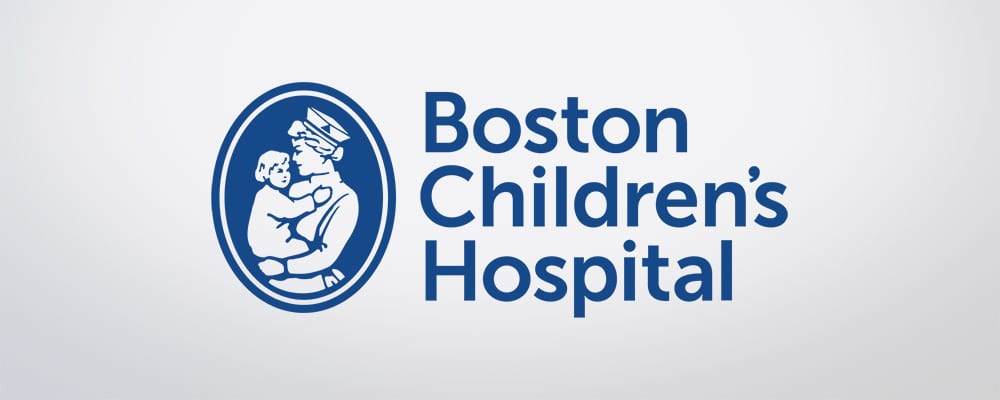 Children's Hospital Boston is one of the largest pediatric medical centers in the United States and offers a complete range of health care services for children from birth through 21 years of age. Children's is the primary pediatric teaching hospital for Harvard Medical School, where most of their physicians hold faculty appointments.
With more than 600 scientists including members of the Institute of Medicine, the Howard Hughes Medical Institute and the National Academy of Sciences, Children's is home to the world's largest research enterprise based at a pediatric medical center. Current research initiatives at Children's have attracted a record $146 million in funding; including more federal funding than is awarded to any other pediatric facility.
The hospital has a long standing reputation in traditional clinical research, providing a wealth of experience and expertise across their divisions and programs, and the remarkable advances in child health have been a result of the collaboration between clinical researchers and basic scientists, making Children's one of the leading pediatric research institutions in the world.
The Clinical Research Program (CRP) is a scientific-support service organization which is committed to providing technical and methodological support, education, and collaborative assistance to the investigators for the design, conduct, and analysis of clinical research at the Children's Hospital Boston. The CRP was established to support researchers in designing and carrying out clinical research projects so that they may achieve continued excellence in conducting the highest quality clinical research. Jason Rightmyer leads the Clinical Research Information Technology (CRIT) Group which serves to champion innovative informatics solutions and expand IT services to the entire clinical research community. The group works closely with the CRP to facilitate research processes. Anytime a clinical researcher wishes to conduct research at the hospital, they will go to the CRP and CRIT to acquire data management and IT support. The CRIT provides services to the entire hospital and are privy to every type of pediatric research imaginable.
Situation
Approximately two years ago the CRIT team saw a huge influx of requests for IT services, in particular requests for survey based research. At the time, the hospital did not offer a specific internal service for survey deployment and certain issues became apparent. "We were concerned that researchers might use free survey software Web sites to get the job done. Although these free Web sites may be okay for use in other industries, we were concerned about HIPAA compliance and other hospital regulatory requirements regarding data safety and Human Subjects Protections," said Rightmyer regarding the hospital's previous, passive IT support of survey research. To meet hospital requirements, Rightmyer and his IT team had to ensure that the data was safe and that the communications between the client and the server were encrypted. The Clinical Research IT Group also works hand in hand with the statistical group at Children's Hospital who use a mix of SAS, SPSS, and Excel, while the survey researchers predominantly use SPSS and, therefore, the ability to export data readily into any of these analysis tools was crucial.
Annually, the CRP and CRIT provide IT services to approximately 75 disparate projects. Some of these research studies collect data directly from patients, physician groups, or internal staff directly via the Internet. The research surveys can be anything from physician-based surveys that analyze standard of care, to patient Quality of Life (QOL) investigations, to internal surveys that review hospital policy across multiple disciplines. In consideration, the CRIT team needed to find an enterprise-capable solution that could be administered centrally, deployed quickly and ensured security and full data management capabilities.
Rather than trying to build each survey from scratch using Microsoft ASP.NET technologies, Rightmyer and his team began a search to find a vendor who could provide them with a turnkey survey software product, preferably compatible with their existing Microsoft infrastructure. With a limited budget and short timeframe, they evaluated a number of different vendors. "We were looking to essentially pilot a new service and to offer rapid survey deployment at little or no cost to the individual researcher" stated Rightmyer. The team built a matrix of all the features they were most interested in and evaluated the products against this matrix which included, ease of use, multiple question types, conditional and branching logic as well as the importance of providing security of data and the ability to export results into the many analysis tools used by the survey researchers and statisticians.
Solution
Children's Hospital Boston decided on Checkbox Survey Solutions' Checkbox Survey Server product enticed by the features that were not offered by other third party solutions. "Checkbox Survey provided us with those capabilities", summarized Rightmyer. For Rightmyer, it came down to the fact that Checkbox Survey is powered by Microsoft .NET, provides the scalability to offer an unlimited amount of surveys and responses across the organization, provides measures to ensure data security, and its user-friendly, 100% web-based interface. Plus, the Checkbox Survey solution allows for fast implementation and includes advanced features such as branching and conditioning logic as well as the ability to export to SPSS and Excel. Finally, Checkbox Survey Solutions solution was within the budget requirements of the CRIT and also offered the ability to integrate with an organizations' other applications at a later date if required.
Rightmyer and his team found the implementation of Checkbox Survey Server problem free and if they had questions they used Checkbox Survey Solutions online support services to answer them. "They are quite responsive and eager to provide assistance," stated Rightmyer.
After quickly getting Checkbox Survey up and running, the Clinical Research IT team partnered with and trained the CRP's Project and Data Management Core (PDMC) in the use of Checkbox Survey. The PDMC works hand in hand with the individual research teams by providing consultation and guidance throughout the research life cycle. The PDMC is able to work closely with researchers to iron out project details and rapidly create the surveys in Checkbox so that clinical investigations are in compliance with hospital best practice guidelines. For the most part, the surveys that are carried out by the institution work 'out of the box'. Rightmyer was impressed with the initial success, stating "Checkbox has been able to handle everything we have thrown at it so far — and I have been involved in survey research for going on 10 years now and have worked with huge surveys that require thousands of respondents".
Benefits
The roll out of Checkbox Survey has allowed Rightmyer and his team, all of whom are senior software engineers, to concentrate on higher profile, enterprise initiatives focused on innovative pediatric research at Children's, rather than worrying about individual time-intensive surveys.
Children's Hospital Boston has been utilizing the Checkbox Survey software for over two years and it has allowed the Clinical Research IT Group to create a innovative new service dedicated to survey creation, deployment, and analysis that further constitutes their ability to produce world class research. "Checkbox has allowed us to establish a new service," stated Rightmyer. " The success of that service is completely based on the success of adopting Checkbox, which has provided us with the ability to extend our service at a low cost that we previously would not have been able to provide. We have dramatically reduced the time and the cost of producing surveys."
Recently, after being extremely satisfied with the hospital's use of and response to Checkbox Survey, the Clinical Research IT Group has decided to extend the service and access to the software to more sophisticated clinical departments. Rightmyer describes this improvement, now that these departments have been trained on Checkbox Survey and properly supervised, "Now, they really can create and implement surveys on demand." Rightmyer and his team are now investigating the 'Developer Kit' offered by Checkbox Survey Solutions, an add on to Checkbox .NET survey software and includes web services, developer support, and API access which will allow them to integrate Checkbox directly with third party applications and further customize the functionality to handle hospital wide research projects of any size or complexity.