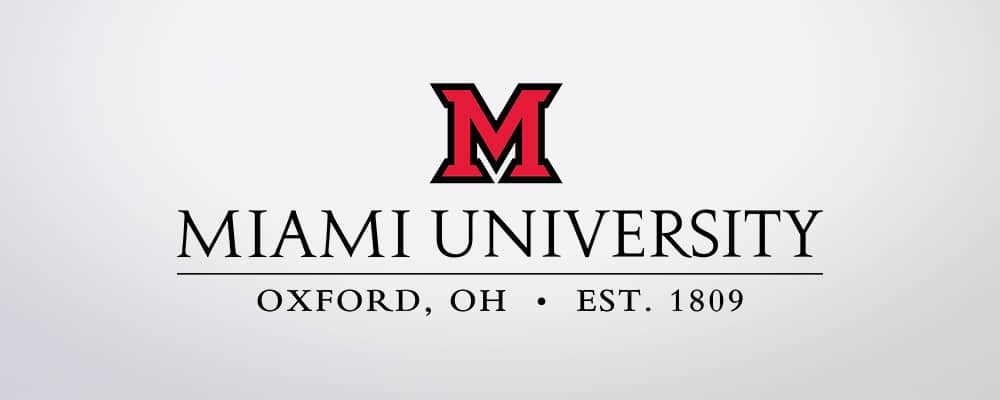 The 2008 U.S. News & World Report college rankings list Miami University 27th among the top public universities in the nation, recognizing the University for providing "outstanding examples of academic programs that are believed to lead to student success."
The Miami University of Ohio, located in Oxford, Ohio, serves more than 14,000 undergraduates and 1,500 graduate students. It provides its students with many opportunities to work with senior faculty on research projects and to participate in strong international programs. . The university's commitment to academic excellence is also demonstrated in its exceptional graduation rate, consistently ranked among the top 10 major public universities nationwide. This record of success is believed to be a result of the personal attention students receive through a comprehensive advising system, a dedicated, accessible faculty, and a wealth of academic resources.
Situation
Two years ago, Joyce Buttery, Senior Web and Publications Coordinator for IT Services at Miami University, headed a project to identify and implement survey tools that could be made available university-wide to faculty, staff, and students. Faculty and staff were increasingly looking to the web to conduct surveys and gather information via forms online. Up to that point, in the absence of university-wide tools, departments/faculty/staff had to find (and fund) their own survey solutions or try to obtain programming resources from the IT division for custom-designed solutions. According to Buttery, the root of the problem was that "…those conducting surveys wanted to be able to design and issue the surveys quickly. We knew that the solution was to put the tools in the hands of the people who needed them, when they needed them."
Miami's project team evaluated various products that could provide a solution for surveys and online forms on campus. "We reviewed many products and were able to eliminate those that did not have on-site hosting capability and those that could not be integrated into our authentication system." Buttery explained. These were important requirements for IT Services because they needed to be able to run a solution through their own authentication systems and have full accountability for any product being run on campus.
Solution
After researching the functionality of Checkbox Survey Solutions' Checkbox Survey Server, Buttery concluded, "We liked what Checkbox had to offer and have since found that it is able to fulfill most of our survey needs." Checkbox Survey was deployed in September 2007, currently has more than 200 users, and "has been very well received," stated Buttery.
Checkbox Survey Software is Checkbox Survey Solutions' integrated software line for managing the full lifecycle of surveys through an easy- to- use web interface. Professional looking surveys can be easily created with the ability to send email invitations and analyze data, all through a standard web browser. The product solution chosen by Miami University, Checkbox Survey Server, allowed the application to be installed on their own server infrastructure, giving Buttery and her team full control over the survey deployment environment.
This was a brand new service that they were offering, and both Checkbox Survey Solutions and the university's in-house technical staff were instrumental in the successful deployment. Buttery explains that they first deployed in test mode to a sample group in order to gain feedback regarding training needs and ensure that the product and the installation were operating as desired. "It was well worth the time invested. The feedback we received from our pilot group was instrumental in the development of our in-house training sessions," says Buttery.
Checkbox Survey Solutions has been supporting Miami University in their efforts to provide a user-friendly survey solution for all their users. Any questions that need to be directed to the Checkbox support team go through the university's IT division. This not only reduces the risk of duplication in questions but also allows IT Services to maintain their own Q&A database. Buttery has been pleased that "Anytime we have submitted a helpdesk ticket, we have always received an answer within 24 hours, if not before."
"The faculty and staff like the tool, it's easy to use and quick to learn" praises Buttery. Evidence of the university's success with Checkbox can be demonstrated by the fact that they provide in-house Checkbox training to their users. This powerful addition to on-site hosting has allowed the users to fully utilize the features of Checkbox for personal use. "We provide a 3-hour session that takes people through the development of a survey all the way to exporting the data," explains Buttery. "The training gives the users insight into all the different question types available, the use of email invitations, and the reporting capabilities."
Benefits
Not only has Miami University benefitted from the ability to easily transition many static forms, assessments, and surveys online, "an added benefit is that data is stored on an IT Services managed server that provides an additional level of security," explains Buttery. Using the user management functionality of Checkbox, IT Services has set up groups of users with varying permissions and roles so that each person has what they need. The team appreciates the support that Checkbox and Checkbox Survey Solutions offer. "We point people to the Checkbox website to review the training resources available such as online videos and printable quick guides." states Buttery.
"I appreciate having Checkbox for developing online surveys and static forms. It is very easy to use. Our users can deploy a simple survey within minutes with little to no specific Checkbox training." Buttery summarizes.
As for the future of Checkbox at Miami University, Buttery and her team are already developing further workshops that will assist faculty, staff, and students with using the reporting and invitation features that Checkbox offers. With over 200 users at present, Buttery is expecting the growth of users to continue campus-wide. Buttery summarizes, "as people see what others are doing with Checkbox Survey they are eager to gain access to the tool, so new users are coming on board all the time. Prezza and the Checkbox Survey product have really come through in meeting the needs outlined at the start of the survey tool project."