This documentation is for Legacy Checkbox Version 6. Please visit our Checkbox Version 7 Documentation page for current user guides.
How to Add/Change Style
This Guide will show you how to apply a Style Template to your survey.
NOTE: If you haven't already created a Style Template or aren't using one of the built-in Style Templates, you will want to click the main Styles menu in the header of Checkbox to first create your Style Template. Then follow these instructions to apply it to your survey. View our Style Guide for more information on creating a Style Template.
---
1. To set your appearance options, select Configure at the top of the Survey Editor and move to the Appearance tab.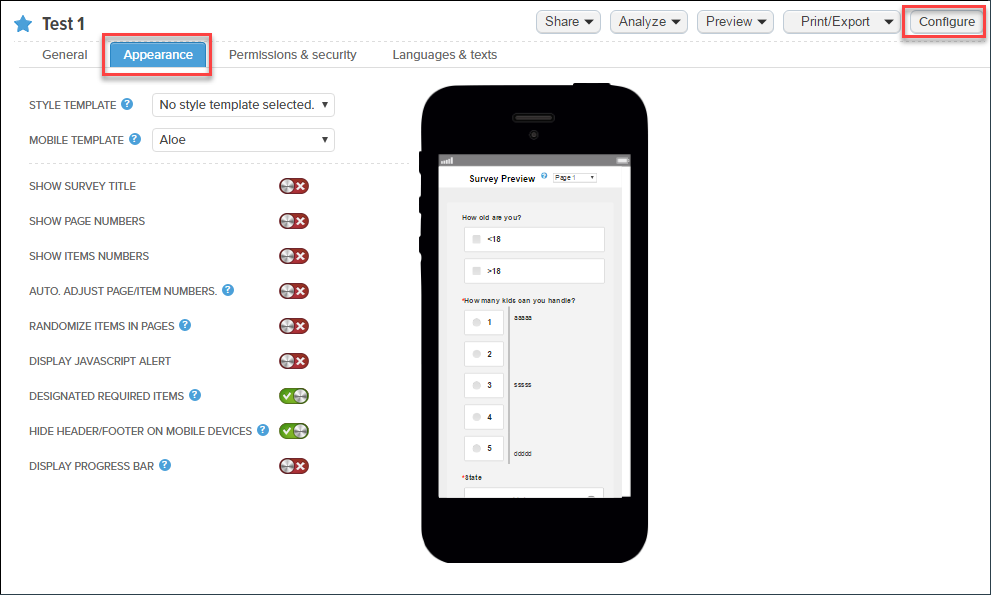 2. Choose from existing Style Templates and Mobile Templates using the drop-down menus.
If a Mobile Template is selected, Checkbox will automatically apply that Mobile Template when a mobile browser is detected. If no style template is selected for Mobile, Checkbox will display the default style template on mobile devices as well.
NOTE: If you'd like to create a new Style Template, you can do so by navigating to the main Styles menu option in the header of your application. Then come back to the survey editor and click the Configure button to apply that Style Template to your survey. View our Style Guide for more information on creating a Style Template.

3. Other appearance options can be enabled or disabled on this page by toggling between the green "on" and red "off" settings.
NOTE: If "Show Survey Title" is enabled, the title text can be modified under the Languages & Text tab.
Changes will save automatically.
CHECKBOX TIP: Hover over a blue question mark for setting details.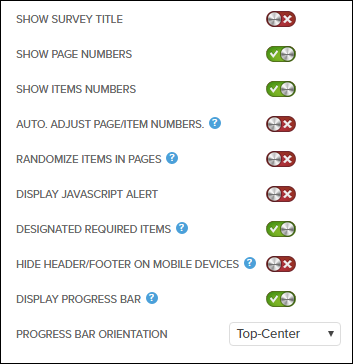 4. Preview your new style by selecting Survey Preview. Tablet and mobile previews are also available under the Preview button.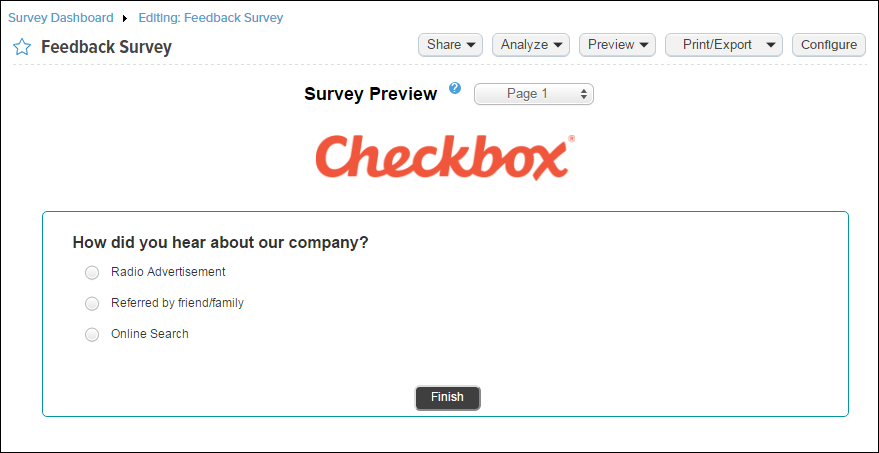 ---
Thanks for viewing our Quick Start: Apply a Style to your Survey. Return to the Documentation page for more detailed guides on each area of Checkbox.