This documentation is for Legacy Checkbox Version 6. Please visit our Checkbox Version 7 Documentation page for current user guides.
This guide provides an overview of the steps taken to create, share, and analyze a simple survey using Checkbox Survey.
CONTENTS:
Getting Started
How to Create a Simple Survey
How to Add/Change Style
How to Share a Survey
How to View/Analyze Responses
---
Logging In
Log into Checkbox by entering first your Username and Password on your custom subdomain login page.
After entering the correct login credentials, select Login to open your Checkbox account.
CHECKBOX TIP: Your subdomain and username were emailed to you when you set up your account. If you don't know your subdomain or username, you can look it up here or email support@checkbox.com for assistance. If you forgot your password, select the "Forgot Login" link for assistance.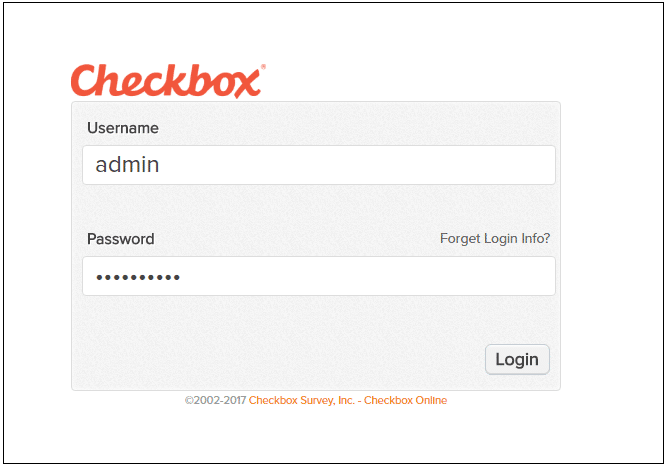 ---
How to Create a Simple Survey
1. To begin the survey creation process, select Surveys from the main application menu. This will bring you to the Survey Manager.

2. Once in the Survey Manager, select the + Survey button to add a new survey.

3. Name your survey.
On this window, you also have the ability to enable scoring, apply style templates, and move the survey into an existing folder. In the example below, we have left all settings to their defaults. These settings can be configured later from within the Survey Editor.
Save your survey settings to enter the Survey Editor.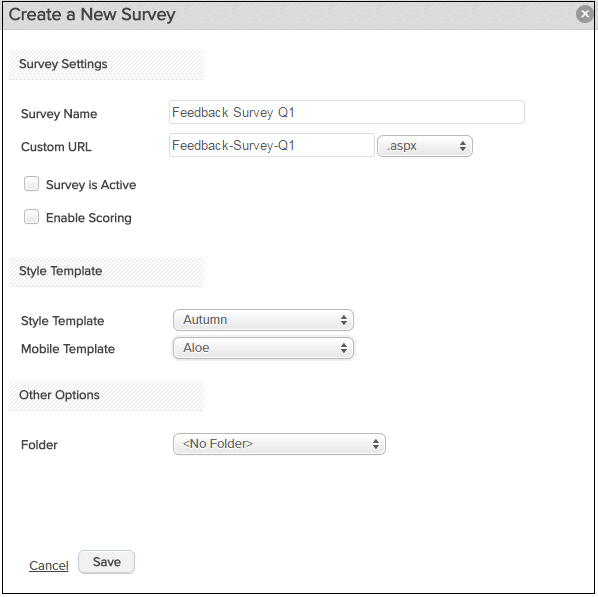 4. Your new survey has been created with a single blank page. Use the +Page button to create more pages. Use the arrows on the left side of the page bar to expand a page and view items on that page or add Branching or Conditions at the page level.

5. To add a survey question or item to Page 1, select + Item next to the Page 1 label.

6. A pop-up window will appear. Select a survey item from one of the four item categories:
Question Items (for example, question types like radio buttons, form fields, etc.)
Display Items (for example, custom messages, images, etc)
Report Items (for example, charts, response summaries)
Action Items (for example, triggered emails, URL redirects, etc.)
In the example below we selected the Radio Button item type from the Question Items category, so we see a preview of that item.
Select Next to continue.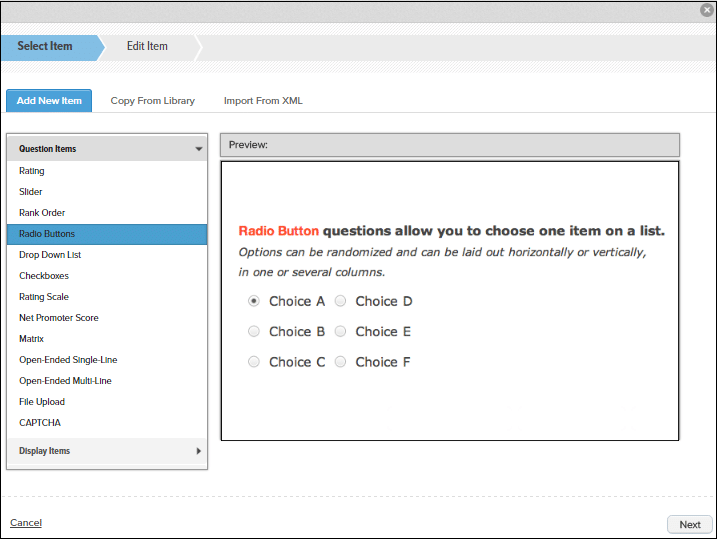 7. Configure your question using the editor tabs. Go to each tab in the editor and configure as desired.
NOTE: Item editor options vary depending on item type.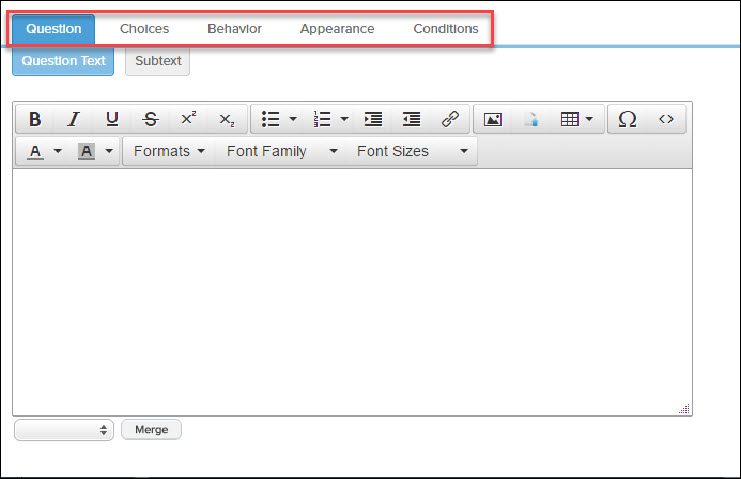 8. Enter your question text in the field provided on the Question Text tab.
HTML code can be altered by clicking the <> button.
NOTE: If you are cutting and pasting text from another application, be sure to paste the text into the <> code view. Pasting into the HTML view may pick up formatting from the external document that is not compatible with Checkbox. Pasting into the code view will paste it as plain text. You may then toggle back to the normal view to apply formatting using the editor toolbar.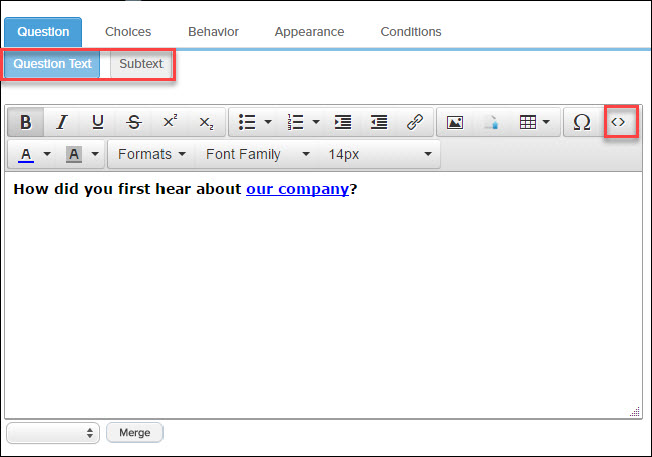 9. Move to the Choices tab and add the possible answer options for the question you just entered.
After entering an answer choice into the text field provided, select the orange "+" icon to save it. A new answer choice field will appear. You can also type or copy and paste your answer options on the 'Quick Entry' tab.
In the example below, we only configured Question Text and Choices. All other item properties were left to their defaults.
Save your item to return to the survey.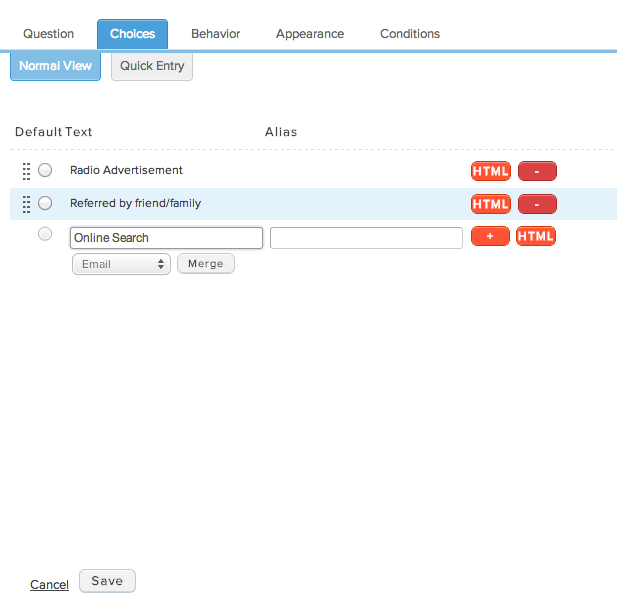 10. If you need to change an existing question item, select it from the survey navigation pane to expand its Item Editor. This editor is the same as the initial editor you used to create the item. Go to each tab and update as necessary.
NOTE: Checkbox will automatically save your changes as you move from tab to tab. You do not need to select Save until all item configurations are complete. Do not navigate away from the item before saving your changes.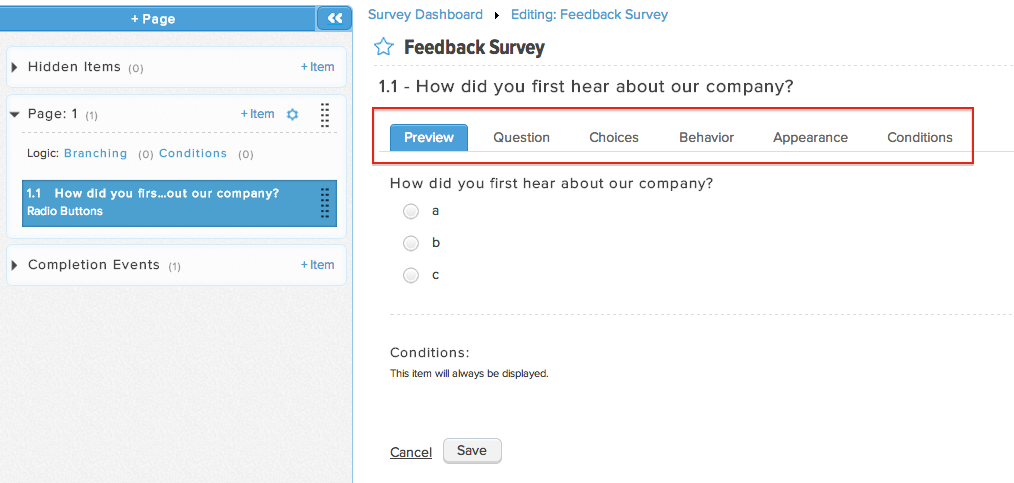 ---
How to Add/Change Style
Once you've added all your questions and answer choices, you can configure your appearance and other survey settings under the "Configure" area of the survey editor.
1. To set your appearance options, select Configure at the top of the Survey Editor and move to the Appearance tab.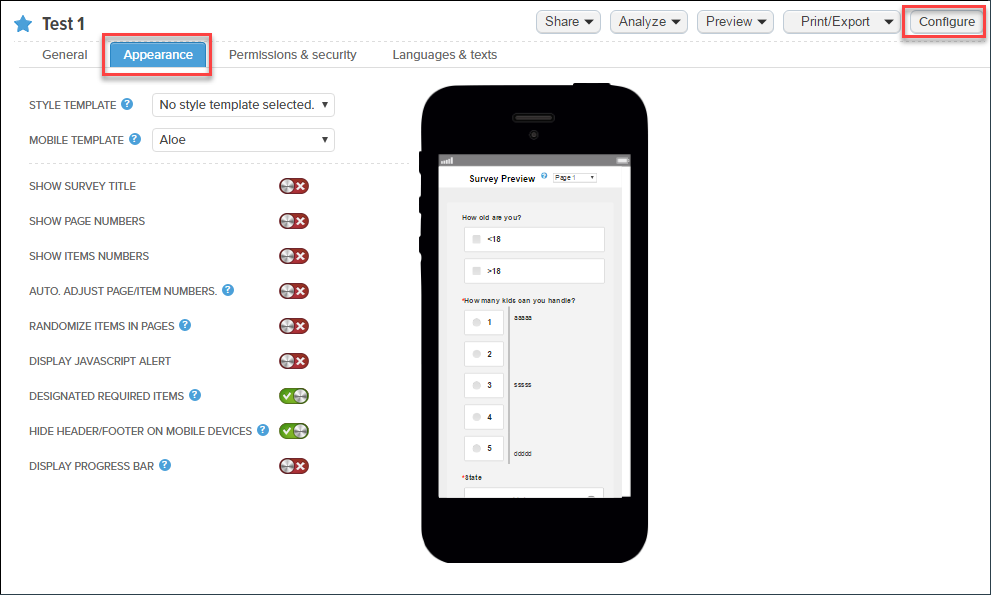 2. Choose from existing Style Templates and Mobile Templates using the drop-down menus.
If a Mobile Template is selected, Checkbox will automatically apply that Mobile Template when a mobile browser is detected. If no style template is selected for Mobile, Checkbox will display the default style template on mobile devices as well.
NOTE: If you'd like to create a new Style Template, you can do so by navigating to the main Styles menu option in the header of your application. Then come back to the survey editor and click the Configure button to apply that Style Template to your survey. View our Style Guide for more information on creating style templates.

3. Other appearance options can be enabled or disabled on this page by toggling between the green "on" and red "off" settings.
NOTE: If "Show Survey Title" is enabled, the title text can be modified under the Languages & Text tab.
Changes will save automatically.
CHECKBOX TIP: Hover over a blue question mark for setting details.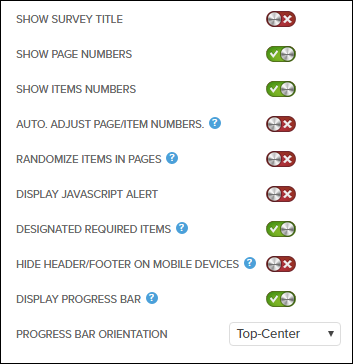 4. Preview your new style by selecting Survey Preview. Tablet and mobile previews are also available under the Preview button.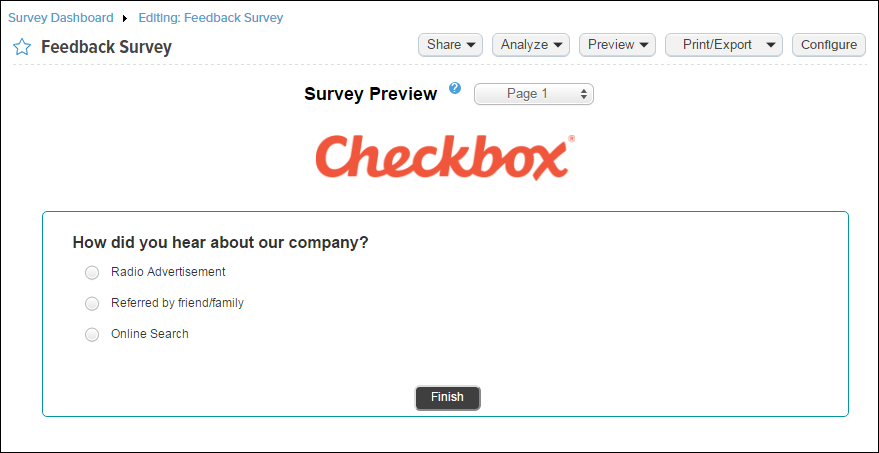 ---
How to Distribute your Survey
1. Select the Sharing drop-down on the right side of the Survey Editor.
Select Launch to begin the survey launch process.
The Launch Wizard streamlines the process of readying your survey for deployment by walking you through:
Survey Permissions
Response Options
Response Limitations
Sharing Options
At the end of the Launch Wizard, your survey will be active and ready to collect responses.
NOTE: Survey permissions, response options, and activation settings can also be configured manually from the Survey Editor >> Configure menu. If you are already familiar with all the survey settings and have configured them properly, you can skip the Launch Wizard and go straight to sharing your survey.

2. After selecting the Launch button, a pop-up window will appear. The first step is to select a survey response permission type. Survey permissions allow you to control who can take your survey and whether respondents will be captured as "anonymous" or "known."
CHECKBOX TIP: When you select a survey permission type, an explanation the permission type will appear on the right side of the window. Be sure to read through all of the options before making a selection.
When you have selected a permission type, select Next to continue to Options.
3. On the Options step of the Launch Wizard, you have the ability to:
Allow respondents to return to previously completed pages while taking the survey. Enabling this option inserts a "back" button so that respondents can move backward in a survey prior to submission.
Allow respondents to edit previously completed responses. Enabling this option means that respondents will have access to their survey response after initial submission.
Allow respondents to stop and resume their response at a later date. This means that a respondent can save and exit the survey before submitting it and return later to complete it.
Anonymize responses, which means that all respondents will be captured as anonymous regardless of whether or not they are registered Checkbox users.
Display a "Save and Exit" button. If you enabled the option to allow respondents to stop and resume their survey, select this option to save their survey.
Select Next to save your changes and continue. Select Previous if you wish to return to Permissions.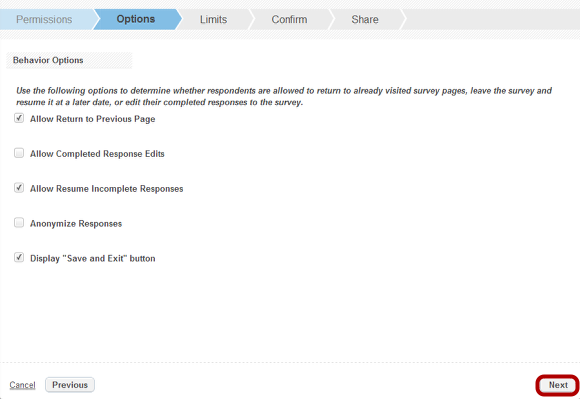 4. Under Response Limits, you have the ability to:
Set the total response limit for a particular survey. If the limit is reached, potential respondents will be unable to complete the survey.
Limit the number of responses per respondent. You can only limit the total number of responses per respondent for registered Checkbox users.
Set a response start and end date. NOTE: A survey must be set to active prior to the response start date.
Select Next to save your changes and continue. Select Previous if you wish to return to Options.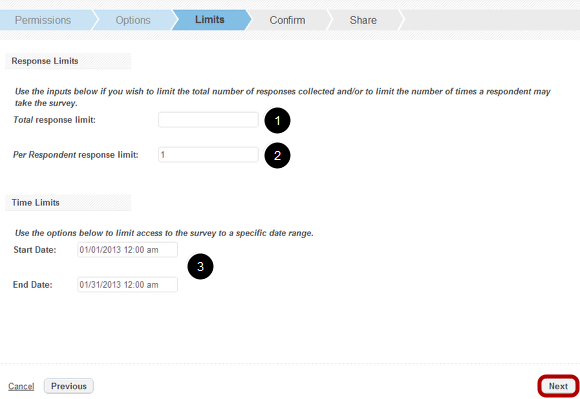 5. Confirm your launch settings and select Finish to view sharing options.
NOTE: If your survey wasn't set to "Active" before starting the Launch Wizard, it will automatically activate as soon as the Finish button is clicked.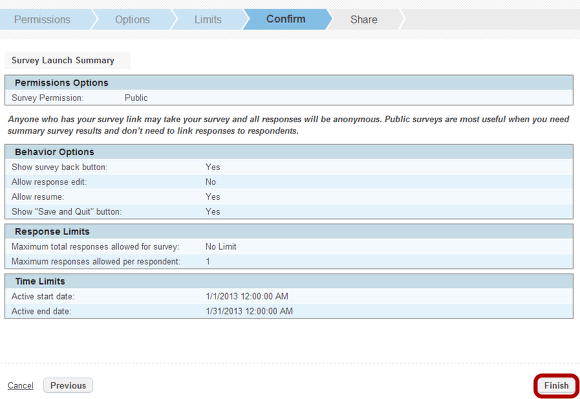 6. On the Share step, you are provided with several options for distributing your survey to potential respondents. You can distribute your survey using one or more of the following methods:
Copy the provided survey URL to share your survey via personal email, web page, social media, etc.
Share the survey through your Twitter, Facebook, LinkedIn or Google+ networks. Select desired network and follow prompts.
Embed the survey into a web page by copying the iframe code provided and pasting it into your web page's HTML editor.
Create and deploy a Checkbox Email Invitation to a group of potential respondents. If you select Send Invites,  you will be brought to the Invitations Wizard where you can build an email invitation and invite users to respond to your survey.
At the bottom of the Launch Wizard window, you also have the option to save your launch configuration and Return to Survey Manager.
NOTE: The above sharing options can also be reached directly from the Survey Manager under the Share menu.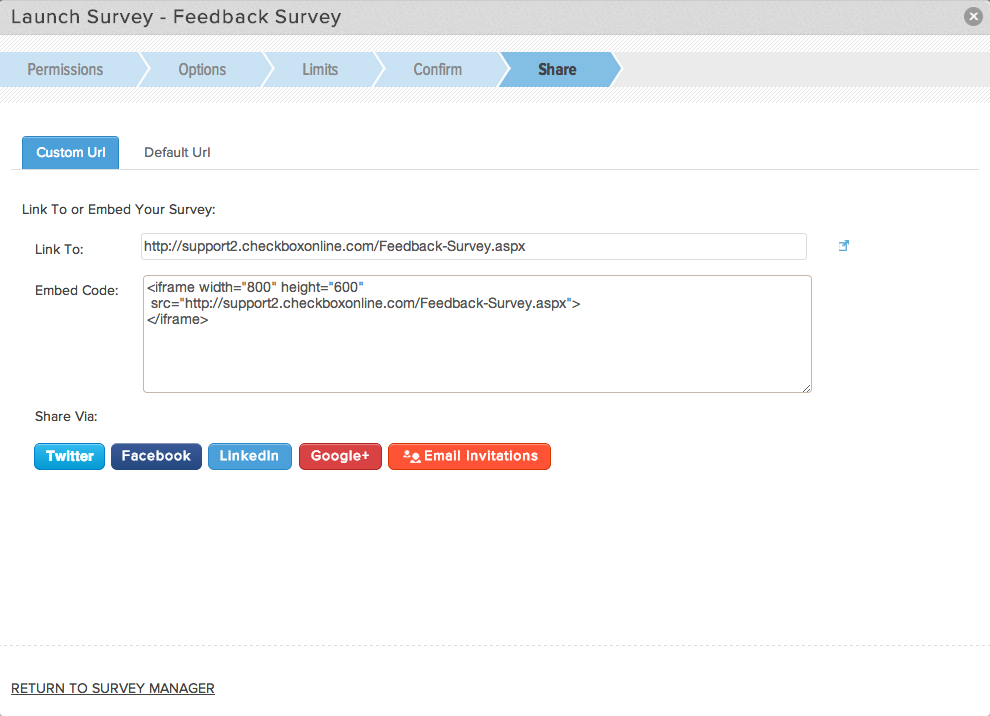 ---
How To View/Analyze Responses
Viewing Responses:
1. Return to the Survey Manager or Survey Editor to view responses. Select the desired survey from the navigation pane on the left to expand that survey's dashboard. The dashboard displays a histogram of recent responses.

2. For a detailed view of collected responses, select Responses -> View Responses from the Analyze drop-down in the survey dashboard or survey editor.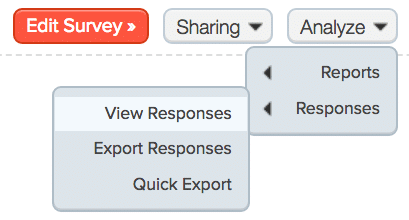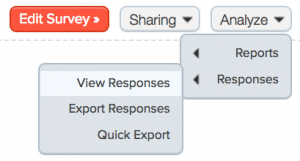 NOTE: Responses highlighted in red are test responses. You can delete test responses in bulk by clicking the "Delete Test Responses" link.
3. Select a response to view an individual response's detail.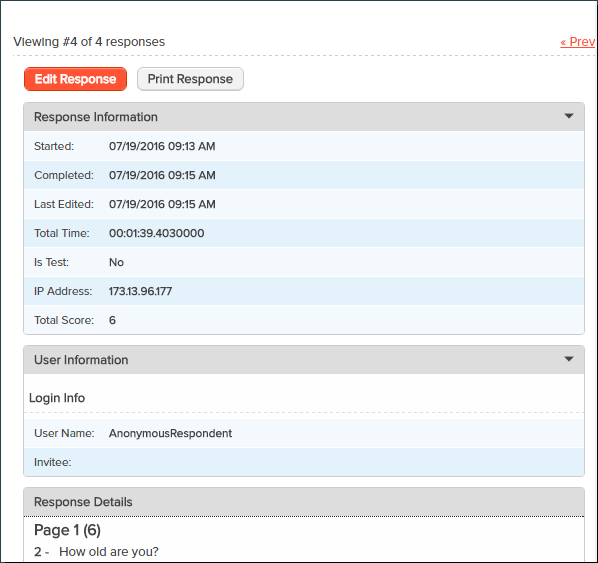 Exporting Data:
1. Select the Export Responses button at the top right of the Response Manager to view export options You can also export responses from the Analyze menu in the survey editor or survey dashboard.

Generating a Report:
1. To create a one-click report with charts and graphs for all your survey questions, select Reports -> Quick Report from the Analyze drop-down in the survey dashboard or survey editor.
**Note, the Quick Report creates a one-click report by using the reporting preferences in your System Settings. If you'd like to change your preferences, click your username in the upper right corner and then System Settings -> Report Settings -> Report Preferences.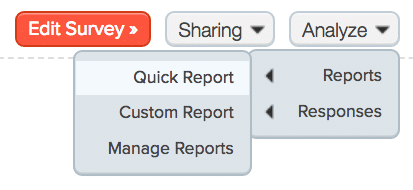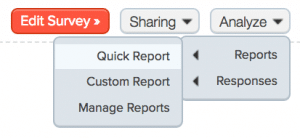 2. If you'd like more control over your report creation, you can instead select Reports -> Custom Report or Reports -> Report Wizard from the Analyze drop-down. For more details on how to create these reports, please see our Custom Report Guide or Report Wizard Guide.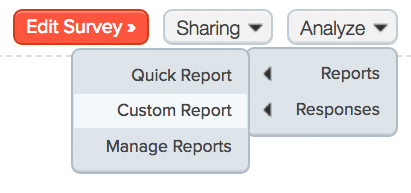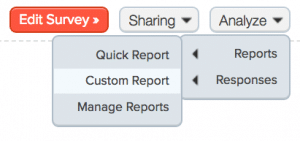 ---
Thanks for viewing the Checkbox Quick Start Guide.