What are Report Filters?
Report filters allow you to look at a sub-set of your data within your summary charts. They can be based on answers to survey questions, user profile properties, hidden items, and date ranges.
For example, let's say you had a question in your survey that asked for the respondent's age. If you ran a report, you would see all results by default. However, if you wanted to see the results for the 35+ respondents or compare the results of those who were 35+ with those under 35, you could add a filter to your report or to an individual graph to allow you to do this.
This guide will walk you through creating and applying filters to your report.
---
1. Start with an Unfiltered Report
Create a summary report using the Report Wizard or Custom Report tool. The report below is an unfiltered report for a survey called "Customer Feedback Survey." This survey has 423 total responses. In this guide, we will apply a filter to this report so that only respondents that indicated that they purchased mainly because of "Value for the Money" will be included in the filtered version of the report.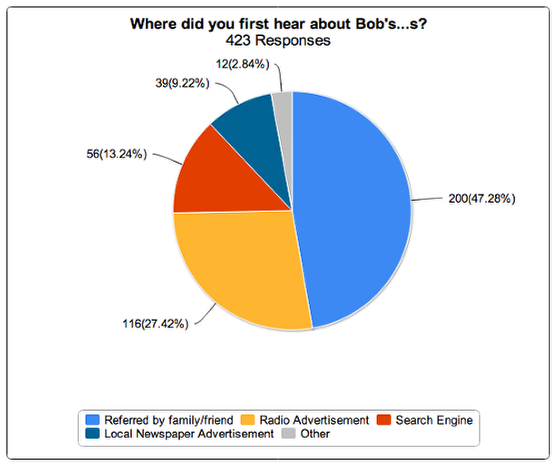 2. Create a Filter
After you have created an unfiltered report, the first step to filtering your report is to set up any filters you might need. Filters are set up at the survey level and can be used for any reports created for that survey – you do not need to set filters up separately for each report.
To create a filter, navigate to the Report Manager (your list of reports for your survey) and click the 'Manage Filters' button.

Click the '+ Filter' button to add a new filter.

Then choose the question, response property, or user attribute you would like to use in your filter and click save.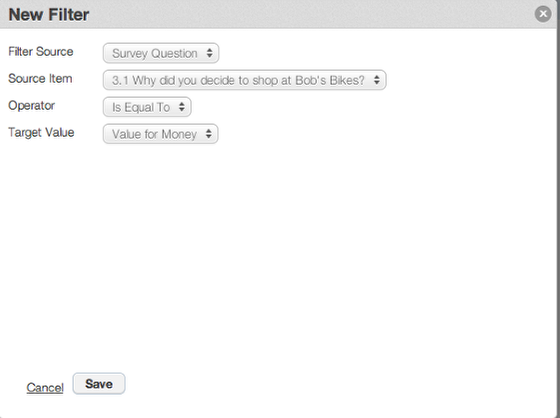 3. Apply your Filter
Next, you'll want to apply your newly-created filter to your report. Go back to the Report Manager and click edit on the report you want to apply your filter to.

From the Filters menu choose Apply Filters or Set Date Filter to add filters to your report.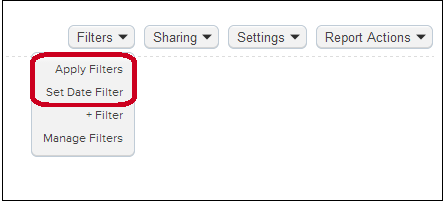 The Apply Filter button will allow you select a filter from the list of filters you have created.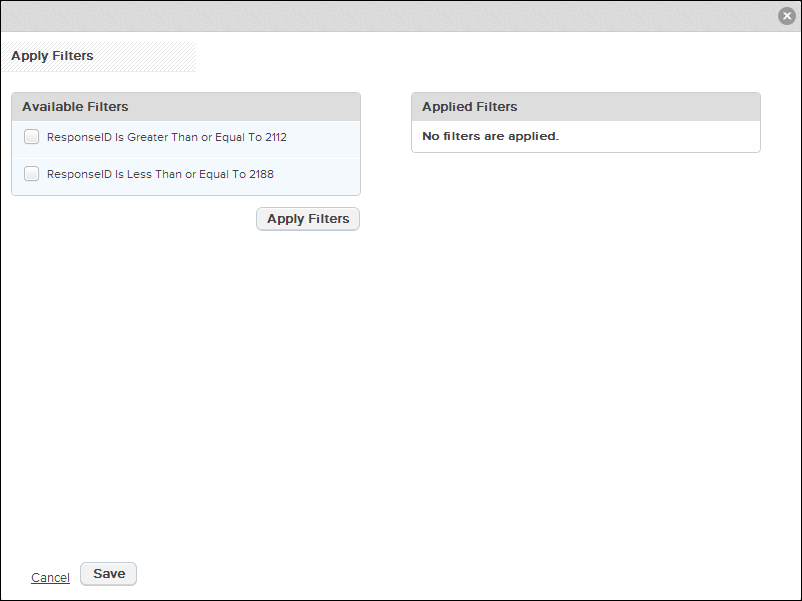 The Set Date Filter option will return results that were completed between the start and end dates you provide.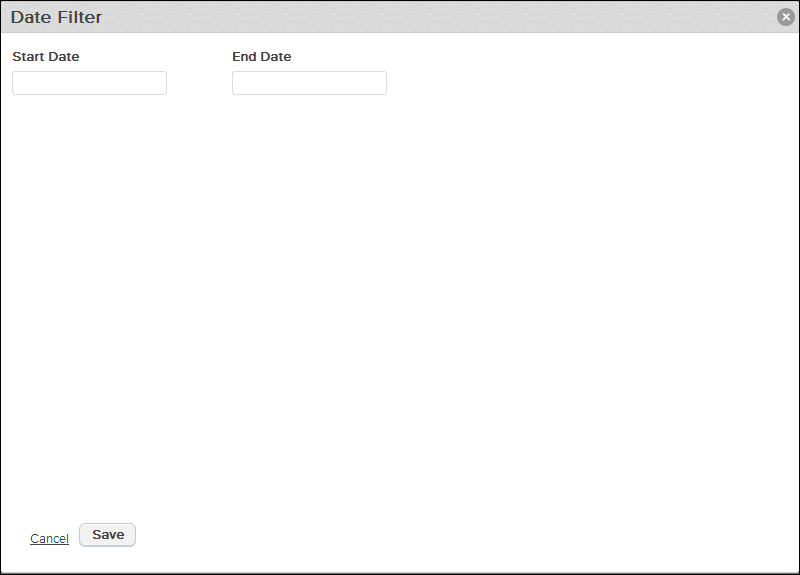 4. Run your Filtered Report
Refresh or run your report again. In the example above you will see that our responses dropped from 423 to 73. This is because only 73 people answered "Value for the Money:" to our question about why they decided to shop with us. So when we applied our filter, all other responses were excluded.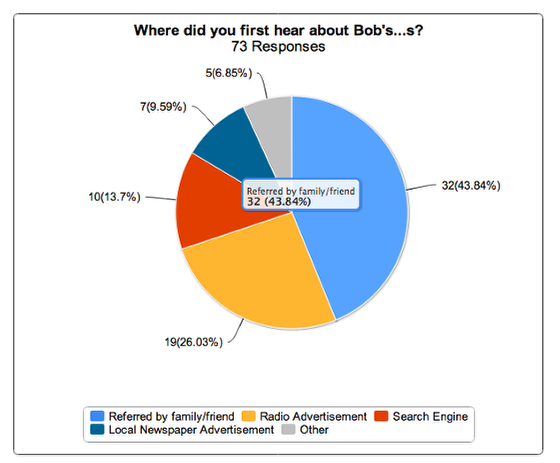 ---
Applying Filters to Individual Charts
In the steps above, we applied a filter to an entire report, so that all charts were filtered by the criteria "Value for Money". However, you can also apply a filter to individual charts in your report. This method is often used to compare filtered results of a single question side by side, since you can copy a chart in your report and apply different filters to each chart.
To apply filters to a single chart, follow steps 1 & 2 above.
To apply the created filter(s) to a chart instead of an entire report:
Select the chart you want to apply the filter to. Click the Filters for that chart. Choose the filter you want to apply and click Apply Filter.
Run your report and ONLY the chart that you applied the filter to will be filter. All other charts will be based on the full data set.