You can create summary reports in Checkbox one of two ways – by using the Report Wizard or by creating a Custom Report from scratch.
The Report Wizard works by mapping question types (radio buttons, ratings scales, etc.) to chart types (pie charts, column graphs, etc) to create a quick full-survey summary. The Report Wizard doesn't give you quite as many customization options as the Custom Report, but it's generally much faster to create. You can also edit your report after using the Report Wizard to create it, if you aren't completely satisfied with its layout or options.
---
Open the Report Wizard
1. From the survey dashboard or survey editor, click the Analyze drop-down and select Summary Reports.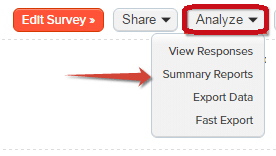 2. Select the +Report button to open the Report Wizard.

---
Generate the Report
1. Name
Provide a Name for your report (required). This is just for your internal reference.
Choose the radio button for Report Wizard.
Apply an existing Style Template from the drop-down list (optional). Choose if you'd like to display the title of the survey on your report.
Click Next to continue.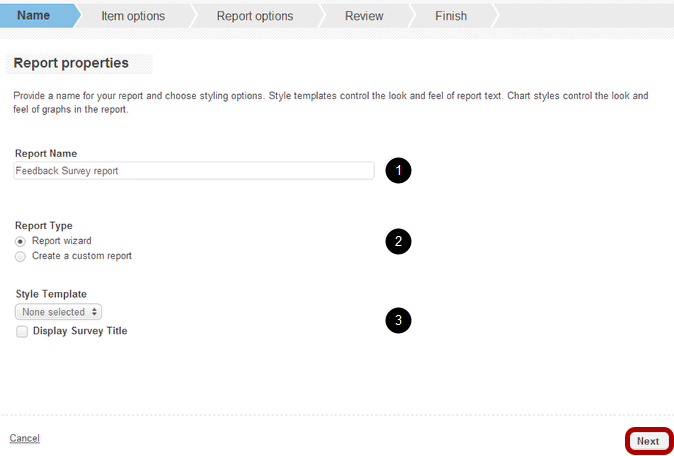 2. Item Options
On the Item Options step, you will see a list of question items mapped to chart types. This mapping can be set in the System Settings so you don't have to change it each time.
In the example below, the results for all Radio Button questions in your survey will be displayed as Pie Charts in your report, the results for all Checkbox questions will be displayed as Column Graphs, and so on.
To change the chart type for each question type, expand the drop-down list and select another option. You can also change the chart type in the Report Editor after completing the Report Wizard.
Select Next to continue. Select Previous to return to the Step 1.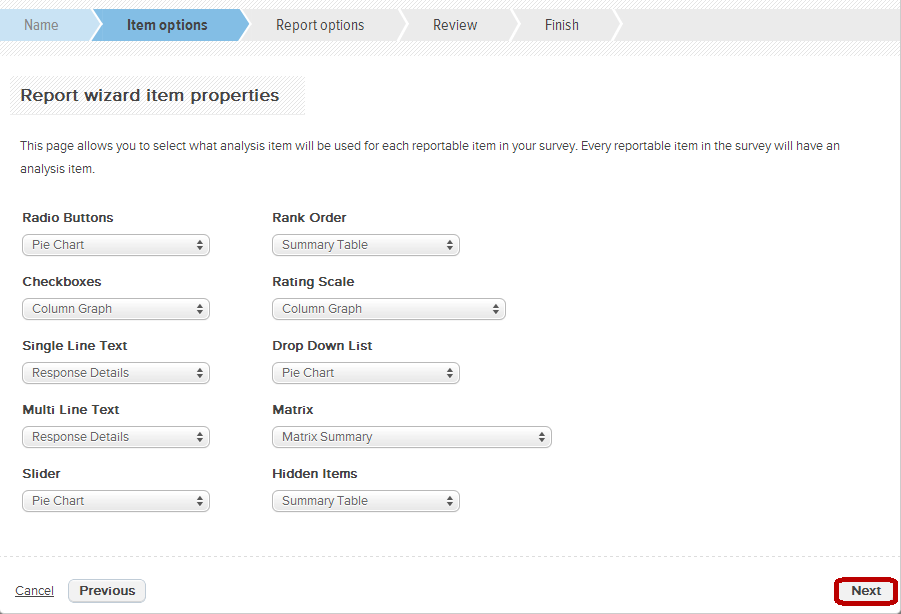 3. Report Options
The next step will give you some display options for your report. Many of these can also be set as defaults in your System Settings.
Aliases are alternate question and answer texts that are created in survey item editors and can be enabled when generating reports and exports. If you included aliases in your survey, you can enable them in your report by checking the Use Aliases option. Doing so will replace question and answer text with alias (alternate) text in the report.
Check the second box to place all report items on the same report page to create a one-page report. If this box is left unchecked, the report pages will mimic those in your survey, e.g. a 3-page survey will generate a 3-page report.
Check the third box to display a table with the total response count below each chart.
Check the fourth box to display a table summarizing answer distributions below each chart.
Set the maximum number of item options (answer choices) allowed in a chart before switching to a summary table display. This feature is useful when displaying results for a question with many answer options.
Click Next to review your report settings. Select Previous to return to Step 2.
NOTE: After a report is created, report pages and item locations can be changed in the Report Editor.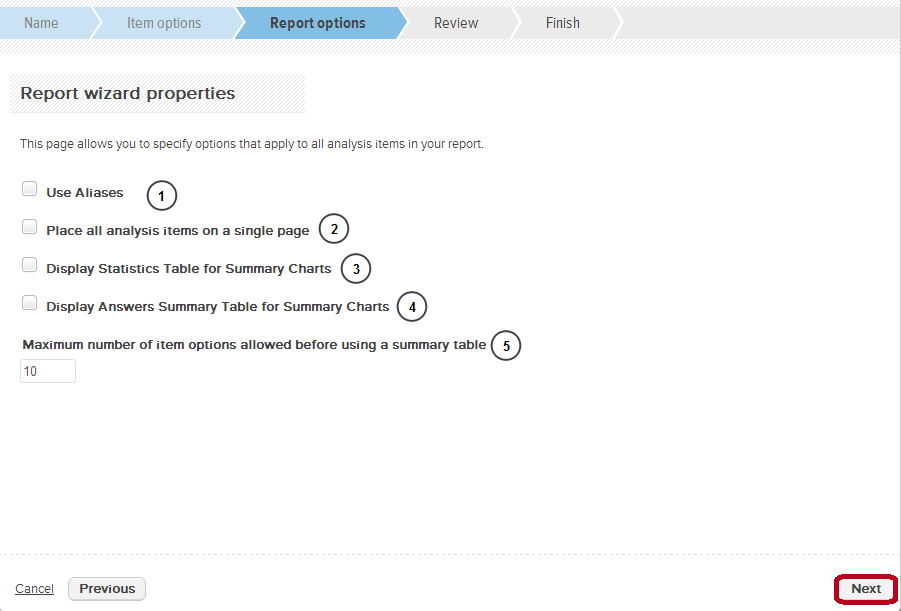 4. Review & Run
Review your report settings. Click Back to make changes or Finish and then Run to complete and run your report.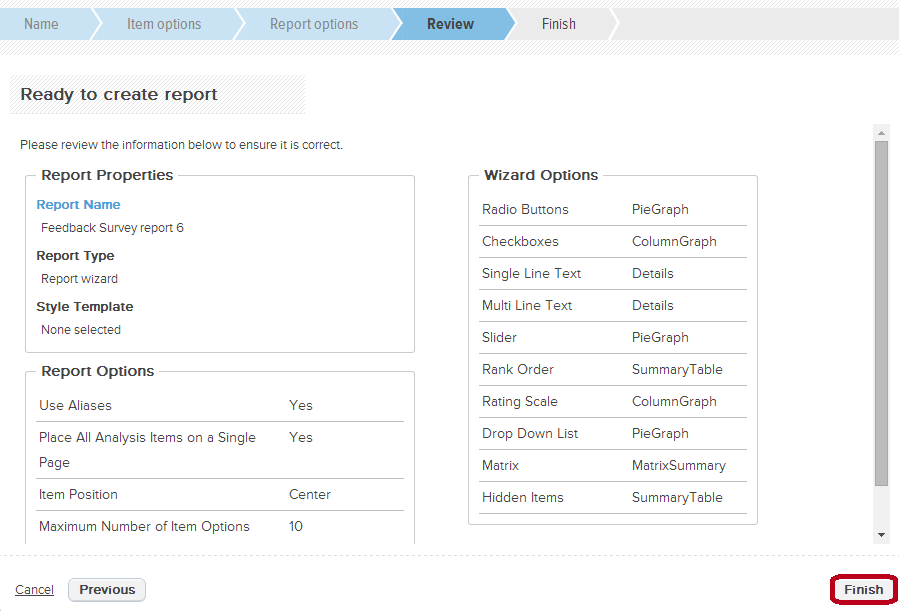 ---
Editing Your Report
Once you Finish and Run your report, you may decide that it doesn't look exactly the way you want. Don't worry  – even if you create the report with the Report Wizard, you can still make changes to it once it's created. Simply click the Edit link from the Report Manager or Report Wizard dialog and follow these steps.
The Report Editor layout is similar to the Survey Editor layout. Pages and items are listed on the left side of the window. Add items and pages using the +Page and +Item buttons.

Items are previewed and edited on the right side of the window using the editor tabs. Most of your display options will be found on the Behavior and Appearance tabs for each chart item.

Select the Run Report button to open a live report in a new browser tab/window.