This documentation is for Legacy Checkbox Version 6. Please visit our Checkbox Version 7 Documentation page for current user guides.
This document walks you through the process of configuring permissions for reports generated in Checkbox.
CONTENTS:
Report Permission Settings Overview
Access Control List (ACL)
Permission Levels and User Roles
How to Make a Report Publicly Available
How to Give Report Viewers Access to a Report
---
Report Permissions Overview
Every Checkbox report has its own permission settings, which control who can view/edit/administer the report.
Report permissions are configured within the Report Manager. From the Survey Manager view, select the survey you wish to configure report permissions for in order to expand its dashboard. Then, click Analyze -> Reports -> Manage Reports to enter the Report Manager.


Once in the Report Manager, select desired report and click edit to open the report editor.

From the report editor, expand Settings and select Permissions.

---
Access Control List (ACL)
A report ACL allows you to control which users/groups have permission to:
Administer the report
Edit the report
View the report
When you open the report ACL, you will be looking at the Access List tab by default. This view shows you who is already included on the ACL (left-hand panel) and what their permission settings are (right-hand panel).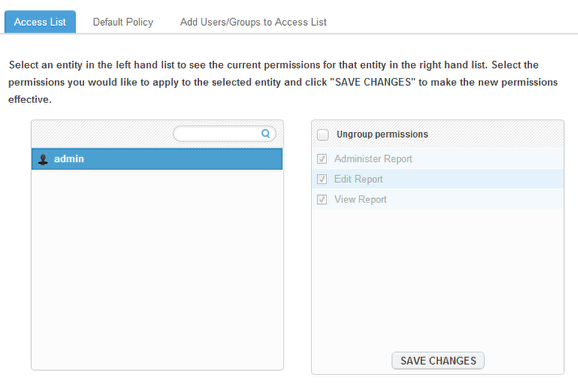 To add a user/group to the ACL, move to the Add Users/Groups to Access List tab. In this view entries on the right are already included on the permission list.
NOTE: User roles with the ability to access reports include System Administrator (by default), Survey Administrator, Report Administrator, and Report Viewer. Only these users can be added to a report ACL. Click here for more details on user roles.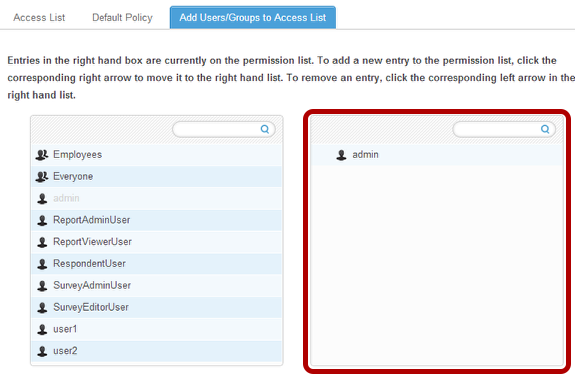 Users/groups on the left can be added to the ACL by clicking the desired entry. The entry will then move to the right-hand box.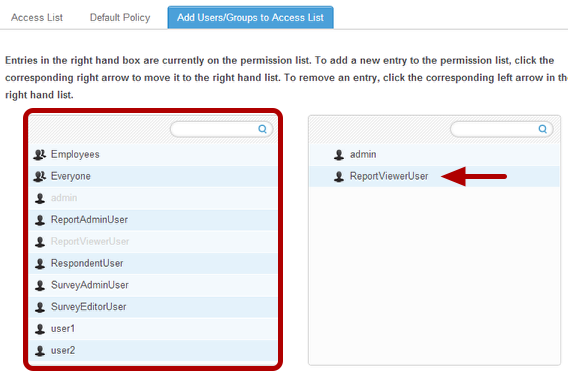 To configure the newly added entry's permissions, return to the Access List tab.
Select the newly added user to reveal a list of permission options on the right. Select desired permission(s), making sure that the permission level you select corresponds with the user's designated user role(s).
After configuring the user's permission level, select Save Changes.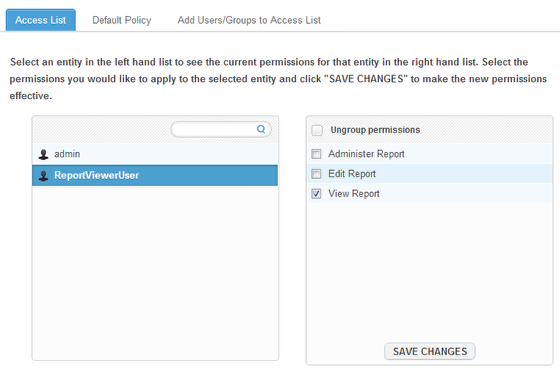 ---
Default Policy
A Report's default policy is the permission setting for all users not included on the survey's ACL. It's also the easiest way to make your report public. For example, if on the Access List tab you granted specific Report Administrators permission to administer a report, but want any Report Administrator not specified on the ACL to still be able to view and edit the report, you could set the default policy permissions to "Edit Report" and "View Report".
**To make a Report link public, simply select "View Report" on the Default Policy tab. This will allow anyone with the report link to view your report, without having to login.**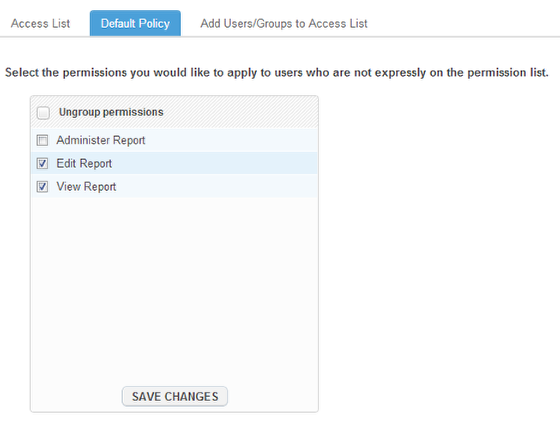 ---
Sharing Your Report
Once you've set your report permissions, you can share your report with other users so they can always access your survey's most up to date results.
To share your report, edit the report and click the Sharing button to open up your sharing options.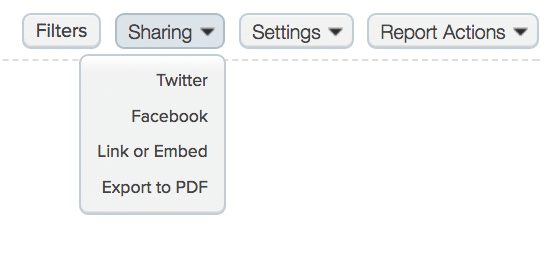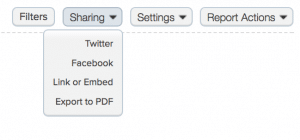 Choose Twitter or Facebook to share directly to your connected social media accounts.
Choose Link or Embed if you'd like to copy and paste a direct report link to other users or embed the report on your website. Note that, depending on how you've set your report permissions in the steps above, your users may need to log in to view the report that you link them to.
Choose Export to PDF to download a static version of your survey charts and graphs.