This documentation is for Legacy Checkbox Version 6. Please visit our Checkbox Version 7 Documentation page for current user guides.
If your survey is longer than 5 pages and requires some thought by the respondent, you might want to consider allowing your respondents to quit and resume at a later date. By enabling the Resume feature in Checkbox, you give your respondent the option to exit and save his/her response. This often results in a higher response rate, especially for longer surveys.
To enable the Resume feature:
1. Edit your survey. Select the "Configure" button and then select the "Permissions & security" tab.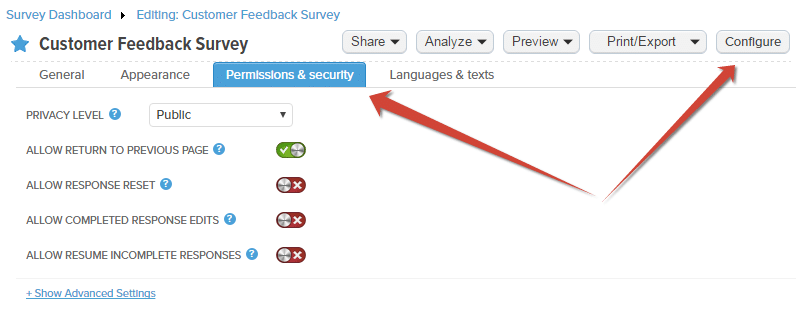 2. Toggle the "Allow Resume Incomplete Responses" to a green check and underneath will appear "Display "Save and Exit" Button.
NOTE: Enabling the "Allow Resume" feature but not the Save and Exit feature will allow your respondents to access a resume link if only they are logged into Checkbox or if they are accessing the survey via a Checkbox invitation. The "Save and Exit" option allows survey takers to send themselves a resume link by email, regardless of how they originally accessed the survey (so it can be used for Public surveys, too).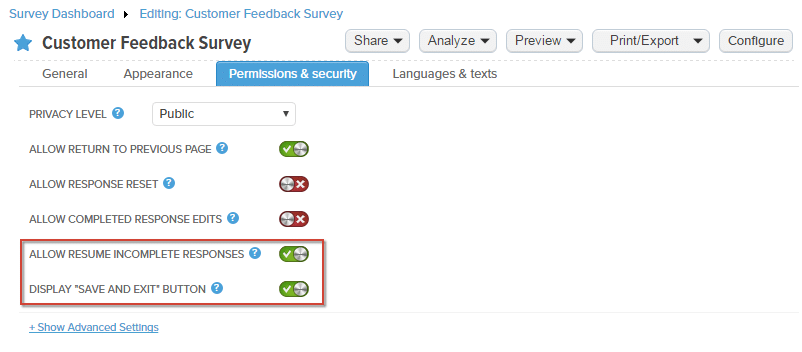 3. These updates will automatically be saved. By testing your survey, you can view it as it would appear to your respondent with the option to 'Save and Exit'.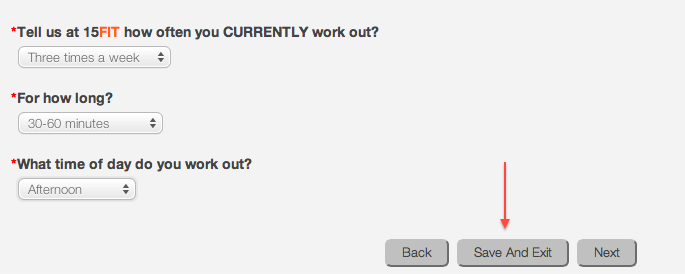 4. If the respondent clicks Save and Exit, they will receive the following message explaining that they can copy and paste or email themselves the resume link, allowing them to continue their response at a later time.