We have always encouraged our survey software users to open their surveys with a solid introductory message.
This message should explain to your respondents:
The goal/objective of your survey,
What you will do with the results,
How long the survey will take, and
Any additional instructions necessary for the respondent to complete the survey.
If your online survey is longer than 5 pages and requires some thought by the respondent, you might want to consider allowing your respondents to resume at a later date. By enabling the Resume feature in Checkbox, you give your respondent the option to exit and save his/her response. This often results in a higher response rate, especially for longer surveys.
Here is how you can do this using Checkbox's Survey Tool:
1. Open your survey in Checkbox's Survey Editor. Select the "Configure" button and then select the "Permissions & security" tab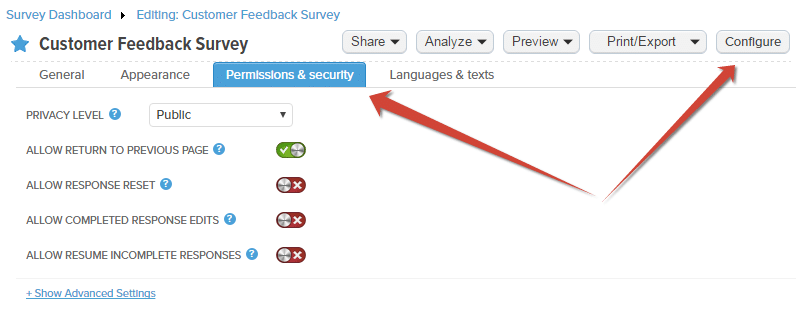 2. Toggle the "Allow Resume Incomplete Responses" to a green check and underneath will appear "Display "Save and Exit" Button (already toggled to green check)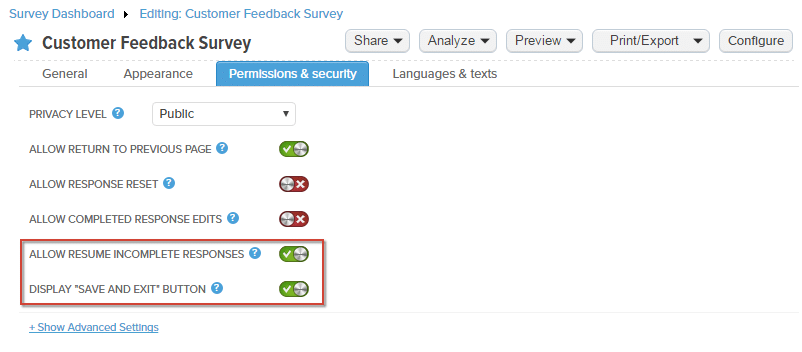 3. These updates will automatically be saved. By testing your survey, you can view it as it would appear to your respondent with the option to 'Save and Exit'.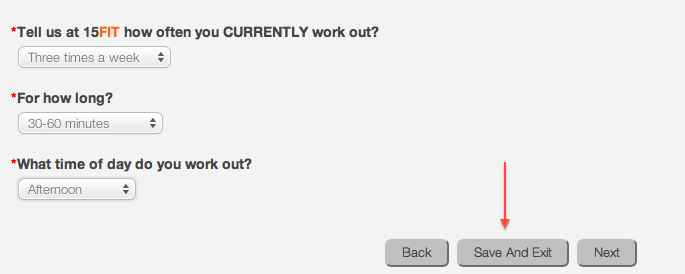 4. If and when the respondent selects this action they will receive the following message explaining that they can save the listed URL and navigate to it at any time to continue, or they have the option to insert their email address and the URL will be emailed to them as a reminder.