This documentation is for Legacy Checkbox Version 6. Please visit our Checkbox Version 7 Documentation page for current user guides.
Checkbox Survey provides you with several convenient options for deploying a survey:
Send survey link via email invitation
Copy and past survey URL
Share survey link on Facebook
Share survey link on Twitter
Embed a live survey into web page
The last option is unique in that it is the only one that does not require potential respondents to click a link in order to take your survey, form or poll. This one extra step could make or break a response, so why not remove the middle man?
The Checkbox survey tool allows you to locate and copy the code required to embed your survey in a website or blog post. Here is how you can do this:
1. From the Survey Editor or Dashboard, select the 'Share' drop down menu followed by 'Link or Embed'


2. The embed section of the pop-up window will contain the code necessary to embed in a website. Copy this code and give it to your website administrator to implement on your web page.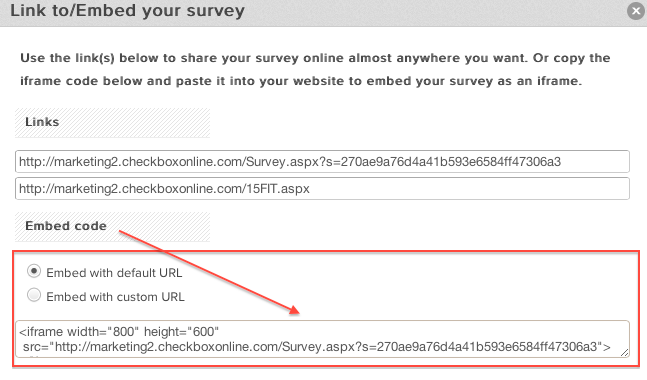 3. If you are embedding the survey into a blog post like the one you are reading right now, simply paste the embed code directly into the code/HTML view. Below are two examples of embedded surveys using Checkbox:
Simple Poll:
Insert following code into HTML view
<iframe width="800″ height="600″
src="http://marketing2.checkboxonline.com/Survey.aspx?s=4d4ec83325a1488885fb856ffde677cb"></iframe>
Simple Form:
Insert following code into HTML view
<iframe width="800″ height="600″
src="http://marketing2.checkboxonline.com/Survey.aspx?s=d9f6b57a1b254d2d906bd7bbff120762″></iframe>