Sharing Access with other Admins
At times, you may want to grant access to other admin users in your account to edit or manage your survey so that you can collaborate together. This guide will walk you through the steps of granting edit or manage access to other admins using what Checkbox calls an "Access List."
Important Note: Contact Roles in Checkbox always trump any access granted to a user through the Access List. This means that in order to share admin access with another admin user, that admin must first have the proper role assigned to his/her Contact profile. For example, adding a Respondent to the Access List with edit permissions won't actually allow them to edit the survey because the Respondent role only allows for survey taking. For more information on user roles, please see our Admin Permissions Overview.
Access List Overview
Surveys, Reports, Folders and User Groups in Checkbox all have an Access List that allows you to control access to the item for other admin users. A survey Access List allows you to control which Contacts or Groups have permission to:
Administer the survey
Analyze Data
Edit/Take Survey
Take Survey
View Survey Responses
NOTE: System Administrators and the survey owner have all permissions enabled by default and their permissions cannot be modified.
Adding Contacts and Groups to an Access List
1. Within the survey editor, click Settings -> Admin Permissions

2. Click the arrow next to the Contact or Group name you want to give access to.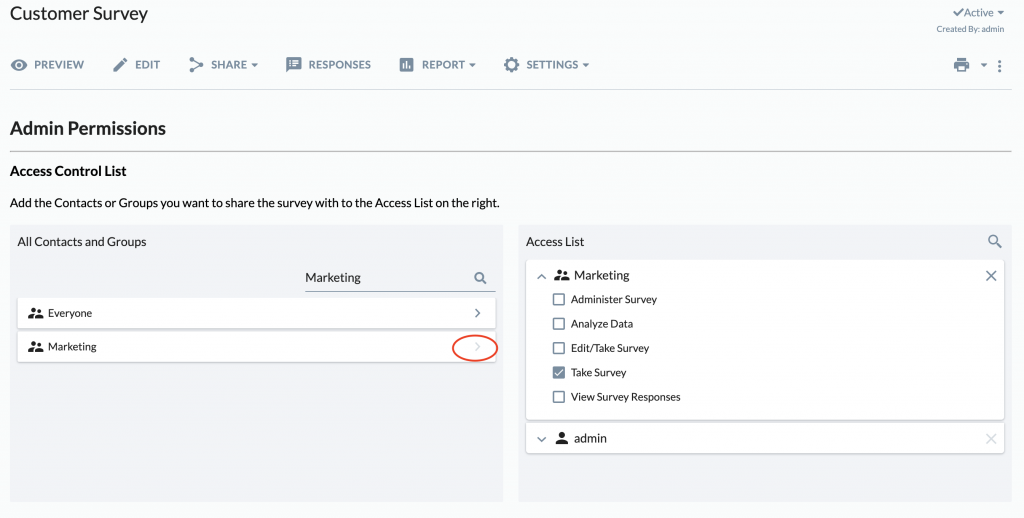 3. Select the permissions you want to grant to that Contact or Group:
Administer Survey (includes edit survey questions, manage survey settings and share the survey via link or Campaigns)
Analyze Data (includes view, manage and edit the survey's Standard Report)
Edit/Take Survey (respond to survey and edit survey questions/items)
Take Survey (respond to the survey)
View Survey Responses (view, export and import individual responses; *Analyze Data* must also be selected)

Default Policy
A survey's default policy is the permission setting for all admin users not included on the survey's Access List. For example, if you granted specific admin users permission to administer a survey on the Access List, but you want all other admins with the proper role to be able to edit the survey, set the default policy to "Edit/Take Survey".
Note that the Default Policy has wide-ranging security implications and should be managed with care. If you have any questions about how the Default Policy works, please contact support before making any changes.

---
Folder Permissions
Every survey folder within Checkbox contains its own Access List. In order to give an admin user access to a survey that is stored within a folder, you must also give that user access to view the folder.
Folder permissions do not propagate to the surveys within that folder, i.e. you must grant access to both the folder and the survey.
1. To change a folder's permissions, from the Survey Dashboard, find the folder you wish to manage, expand the settings/cog icon, and select Permissions.

2. Add the admin users to the Access List by clicking the arrow next to their Contact/Group name on the left. Then select the level of permissions you'd like to grant them:
Manage Survey Folder (manage folder settings and view folder + folder contents that user has access to)
View Survey Folder (view folder + folder contents that user has access to)