Do I need to use Checkbox email invitations or can I just use my own email?
No – you are welcome to copy and paste the public survey link into your own personal or company email, if you would prefer. However, sending your surveys via Checkbox email invitations allows you to schedule and send invitations and follow-up reminders, track respondent status, and track and report on bounces and opt-outs. Invitation links can also automatically log your respondents into Checkbox, if you want to send your invitations to Contacts in Checkbox.
---
Creating a Checkbox Email Invitation
1. Import Your Respondents (optional)
If you are going to send your invitation to registered Checkbox Contacts (so you can associate details like name or company with your response), you need to import your respondents in the Contacts manager before setting up your invitation.For more details on how to create new Contacts in Checkbox, please see our Contact Import Guide.
Otherwise, you will be able to copy and paste email addresses directly into your invitation, following the steps below.
2. Create a New Invitation
From the Share tab of your survey, click the Create Invitation button under the Email Invitations header.


3. Set Basic Invitation Options
On the Invitation Name screen:
Give your invitation a name. This will not be shown to respondents, so it should be something that will help you identify the invitation.
Either create blank invitation or copy the message and subject from an existing invitation.
Choose if you want to Allow the allow invitation link to automatically log respondents in. This option is only relevant if you are sending your invitation to Contacts that you have set up in Checkbox. By default, the invitation link sent to Contacts will automatically log them in, allowing you to associate Contact info like name and company with each response. If you uncheck this option and send your invitation to Contacts, they will need to log in to take the survey.
Add a new Company Profile or choose one from the list. The Company Profile includes your organization's name and mailing address – it is required on Checkbox hosted accounts and recommend for Checkbox on-premises accounts in order to comply with anti-spam laws. The address information from the Company profile will be automatically merged into your invitation – see step 4.5 below.
4. Customize Your Email Message
Enter the From Email, From Name, and Subject of your invitation.
Enter your invitation message in the text box provided. Use the formatting options or custom HTML to customize fonts, add images, and further brand your invitation.
Within the subject and message text fields you can click the @ icon to merge in Contact profile information, such as FirstName and Company. Note that merging will only work if you are sending your invitation to registered Checkbox Contacts (versus just email addresses).
You can edit the display text for your survey link and unsubscribe link, but do not delete these links or modify the "href" code for these links, as you can potentially break your invitation or respondent tracking . If you have any questions about how to safely modify these links, please contact support prior to sending your invitation.
You can change the formatting and placement of your company footer merge codes, but you must ensure that your invitation includes the following merge codes or it will not send: @@FooterAddress1, @@FooterCity, @@FooterState, @@FooterPostCode, and @@FooterCountry.
Click Save.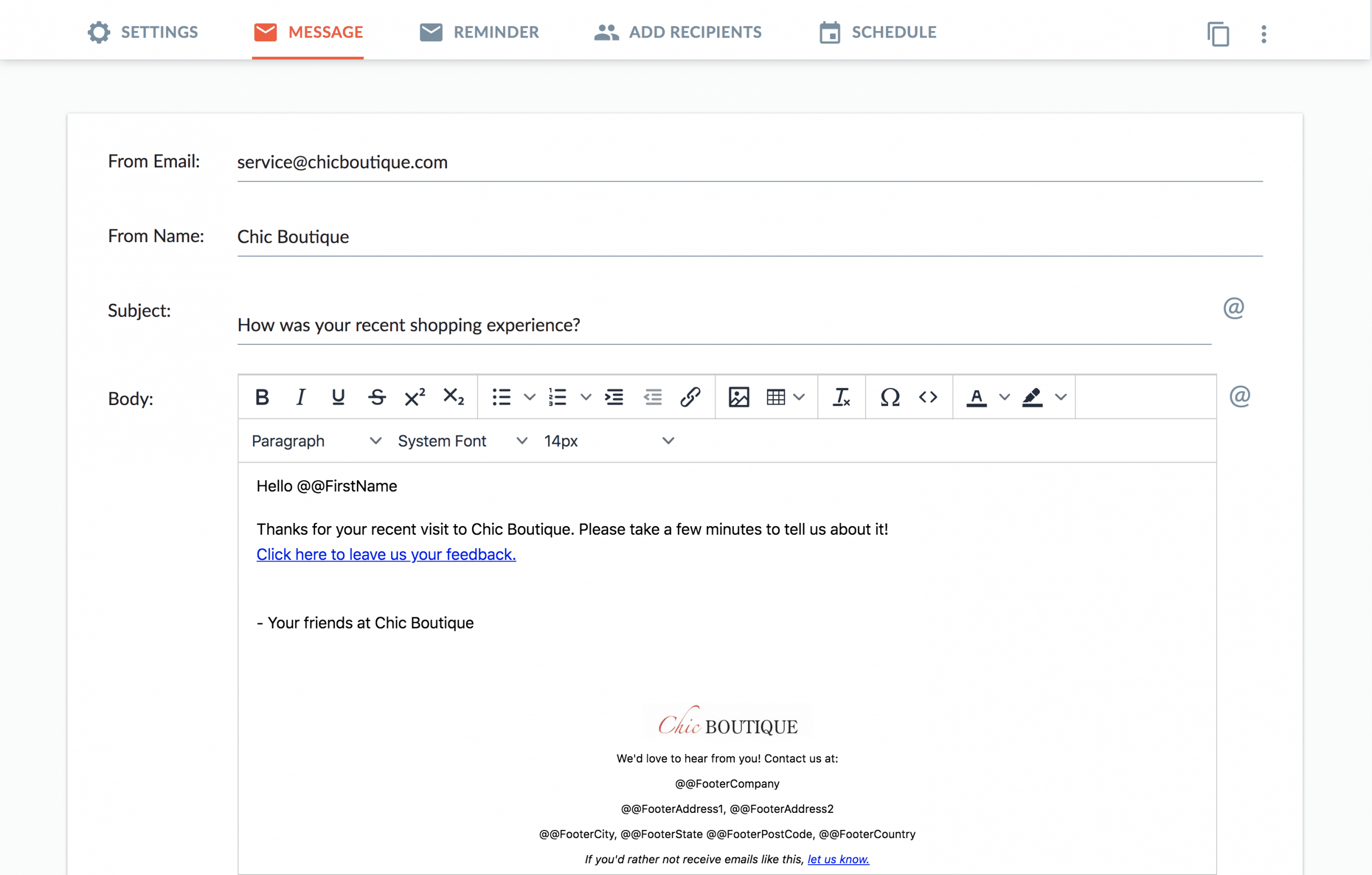 5. Customize your Reminder Message (optional)
If you plan to send follow-up reminders, you can add a separate message for your reminder emails.

6. Add Your Invitation Recipients
On the Manage Recipients screen you have the option to add recipients to your email list. To add recipients to your invitation, select the type of recipient you would like to add from the four available options:
Email Addresses – Copy and paste or enter email addresses into the text field
Contacts – Respondents that you have imported into the Checkbox Contacts area. See this guide for more details. 
Groups – Contact Groups that you have created.
TIP: If you want to be able to personalize your invitation or survey with custom Contact profile information like name or company, you need to use the Contacts or Group option.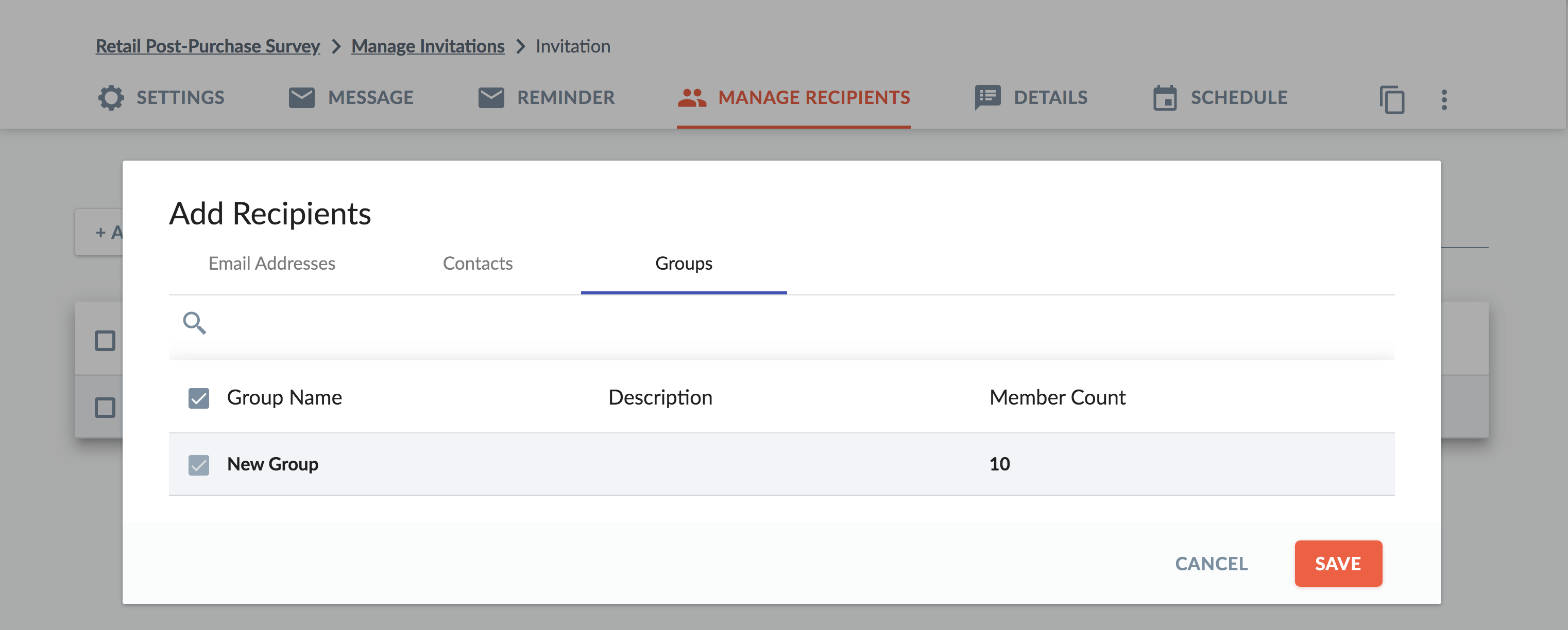 7. Send a Test Invitation (optional)
To send yourself or someone else a test invitation, click the Send Test Message button on the Manage Recipients tab and enter your email address. You can send as many tests as you'd like.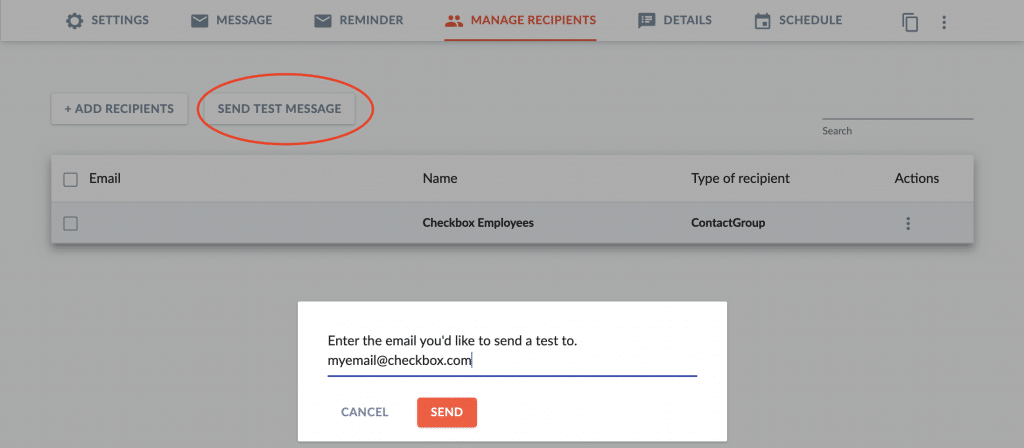 8. Send or Schedule your Invitation
On the Schedule screen you can choose to:
Send the invitation as soon as possible. The email will be queued to send as soon as you select Send.
Schedule the Invitation for a specific date and time. If this option is selected, click into the date field to view a date/time picker.
Save the invitation as a draft for later sending or scheduling.

9. Schedule your Reminder(s)
Once you have scheduled or sent your invitation, you will see a Schedule a Reminder button appear on the Schedule tab. Click this to select the date and time you'd like to send your reminder – you may schedule one or more reminders. Make sure to click Save under the 3-dot icon to save your reminder schedule.

10. If You Need to Modify Your Invitation Schedule
Scheduled email invitations can be modified up until the point that they are queued for sending (generally about 5 minutes before your scheduled send time). To edit your invitation or reminder schedule, click the Edit option under the 3-dot icon on the Schedule tab.