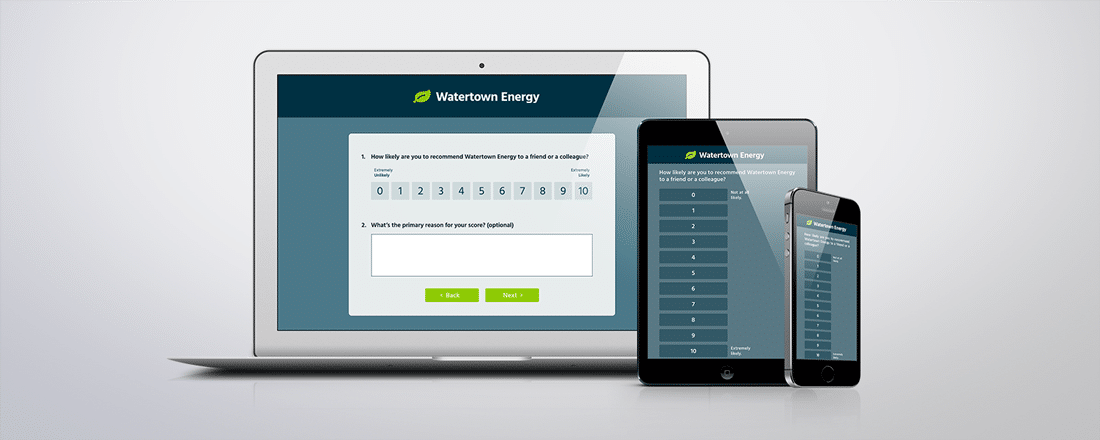 A well-designed, easy-to-use survey generates more responses and better results. A familiar brand and voice improves survey response quality as well.
Your Survey. Your Brand.
Checkbox gives you full control over the look and feel of your surveys. It's easy to create surveys that represent a seamless extension of your brand. (And just your brand: unlike some of our competitors, we don't put our name or logo on your surveys.) You can customize the look and feel of just about everything in a Checkbox survey.
We have a complete set of design templates to get you started. Pick one, and change the layouts, backgrounds, fonts, colors and images as much as you like. Or just start from scratch. You can even create custom styles for borders, question boxes, and action buttons. Add custom links and contact information to your survey's header and footer, too.
Seamless Mobile Experience
Every Checkbox survey layout, whether you use it off the shelf or customize it completely, is configured for responsive display. It doesn't matter whether a respondent uses a desktop, a tablet, or a mobile phone to answer your survey. The survey will display beautifully. Input mechanics will be optimized for the capabilities of the device being used. The respondent experience will be exactly as you intended.
And the best part is, this all happens automatically, in the background. Creating a great survey experience on any device requires absolutely no special effort or expertise from you.
Use Your Own Domain Name
We provide a custom subdomain for all Checkbox online subscribers. This subdomain, which takes the form:
[YOUR BRAND NAME].checkboxonline.com
is exclusive to you. You'll use it to sign in and manage your campaigns. Your custom subdomain will appear in the respondent experience as well.
We also allow you to drop the "checkboxonline" part and simply use your own domain, with no mention of Checkbox. This capability is available for Checkbox online customers with a "team" subscription.
Custom domains are also included with all on-premises software licenses.