Let's face it: Data is the new oil. It fuels our businesses, making them smooth and profitable. But, like oil, data can be dirty and messy — especially if you're working with fragmented data from various sources. Enterprise survey software is one of the most effective ways to collect and analyze data in a business.
If you want to improve employee or customer satisfaction, the first step is to gather insights on what needs to change. After all, who knows your customers and employees better than you? You! Well, sort of… 
Unfortunately, getting high-quality data is more difficult than it seems.
According to research, the average survey response rate is only 30% worldwide. The research identified different factors that could contribute to abandoning the survey halfway.
The most common reasons are:
The user interface is unattractive or difficult to navigate.

The survey is too long.

Questions are repetitive or too complex.
The good news is that high-quality enterprise survey software can eliminate most of these obstacles, especially when it comes to improving the user interface and eliminating "feedback fatigue".
In this article, we will talk about the most modern enterprise survey apps that guarantee exceptional user experience and the highest quality of survey data.


What is enterprise survey software?
Enterprise survey software is a cloud-based or self-hosted solution that enables organizations to create and distribute surveys and analyze & understand survey results.
A good survey platform allows you to create multiple types of surveys, customize them, and analyze survey data in real-time.
They should also be able to manage large quantities of data while meeting security standards: GDPR, HIPAA, SOC2, and others.
These platforms are used for multiple reasons:
It's important to choose a survey platform that's versatile and adaptable and that can be used for different purposes based on your needs.
10 best enterprise survey software for businesses
We've selected the ten best enterprise survey tools currently available on the market. Keep reading to find out which one is the best for you.
Checkbox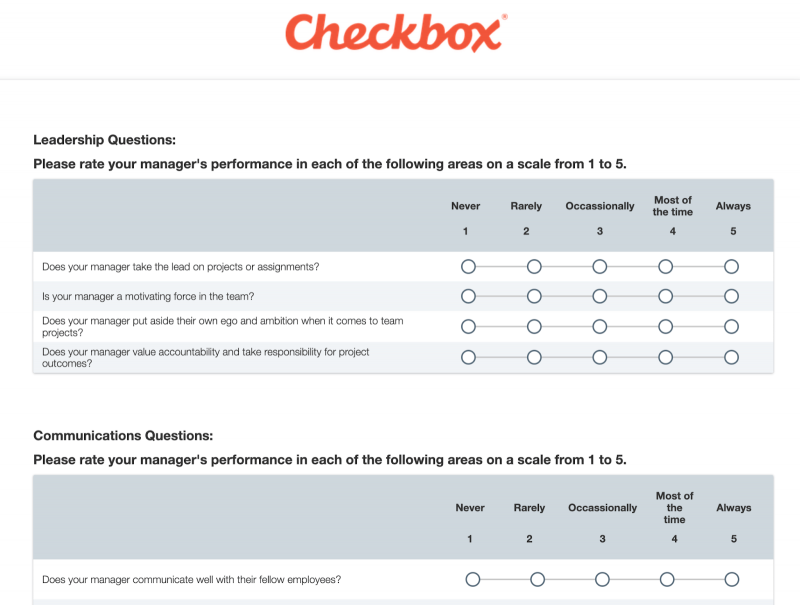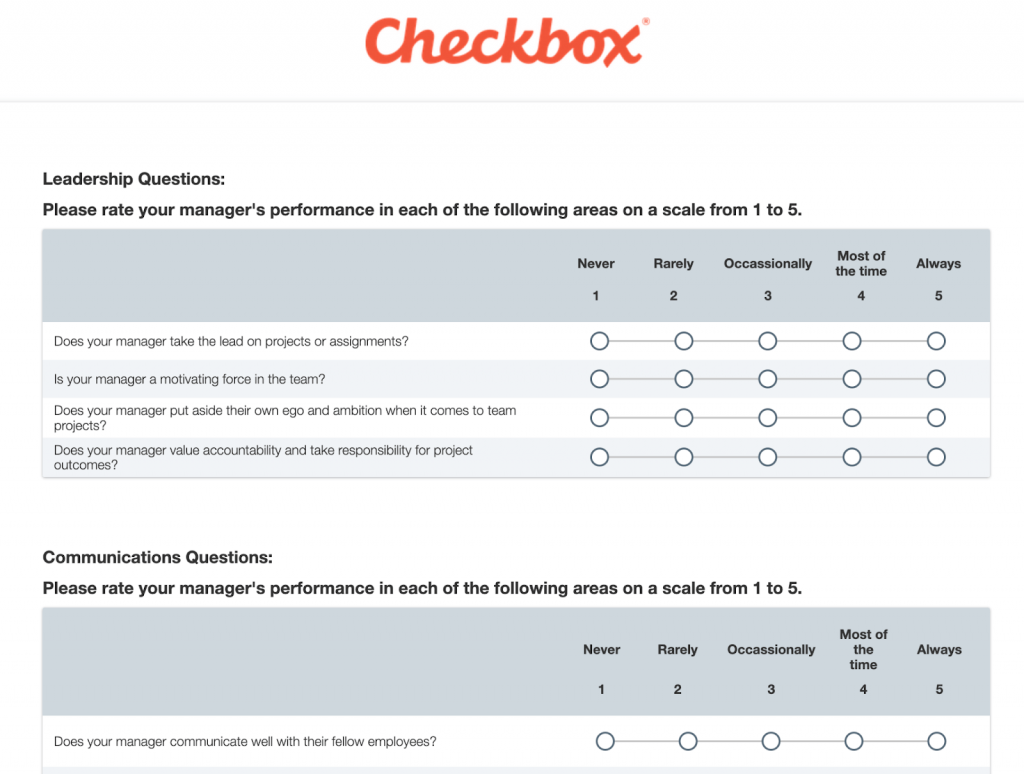 Checkbox is an all-in-one solution that allows you to create, distribute and analyze your surveys effortlessly.
We provide two options:
1. Cloud-hosted subscription
If you don't want to bother with set up, you can immediately start with your first survey, thanks to Checkbox SaaS solution. 
You get an unlimited number of surveys and questions. Most importantly, you can collect an unlimited number of responses (this is a catch with many other survey platforms, which restrict you to only a certain number of responses).
If you want to be the only one with access to your data, you can install our software to your device or private cloud and then access surveys from any browser you use. This option is ideal for companies with strict data policies, and it's one of the safest options on the market.
Our surveys are accessible on all devices, they are mobile-friendly and look professional even on mobile phones.
Surveys are highly customizable, you can choose from many different question forms. You can brand your surveys by adding your logo, custom background, or brand colors.
When it comes to distribution, you can send them by email, share the link with your URL, share them on social media or embed surveys to your website.
Checkbox offers a high level of automation, you can schedule email/SMS invitations, reminders, and follow-up emails.
It also integrates with all major CRMs and platforms, such as Zapier.
Checkbox provides real-time data analysis, filtering, segmentation, and open text analysis. You can export and share data in different formats quickly and safely.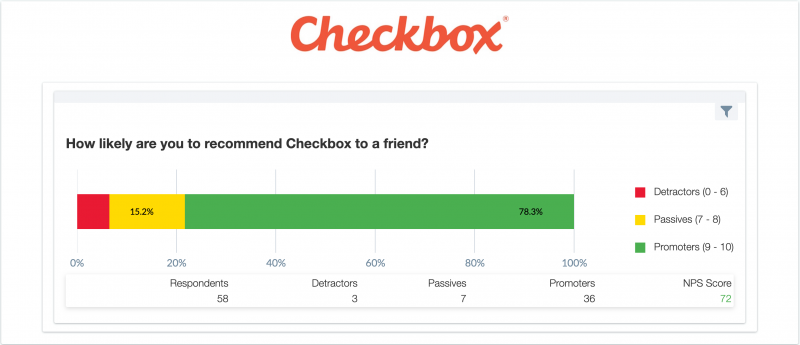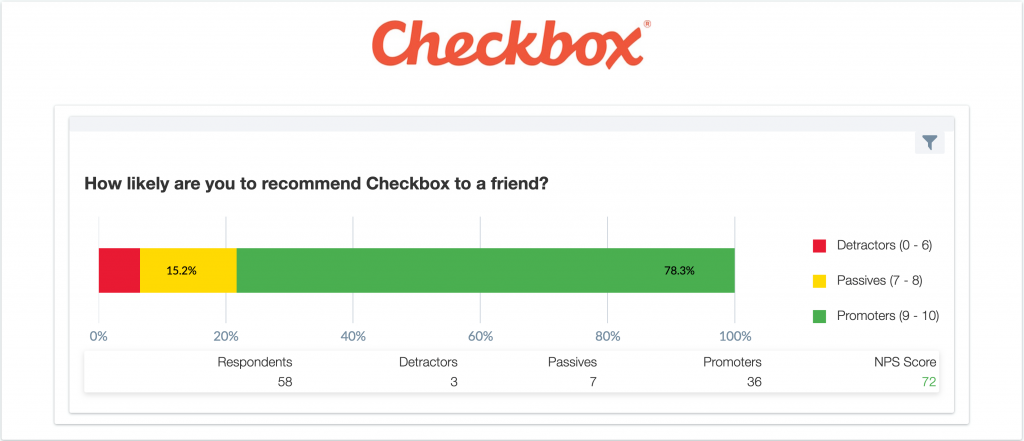 And finally, one of our main priorities is a high data security standard. You can be the only one that has full control over what happens with your data. We suggest you use data description to protect it from third parties.
Pricing:
Free trial

SaaS subscription: starts at $480 per year

Perpetual software license: custom price
Survey Monkey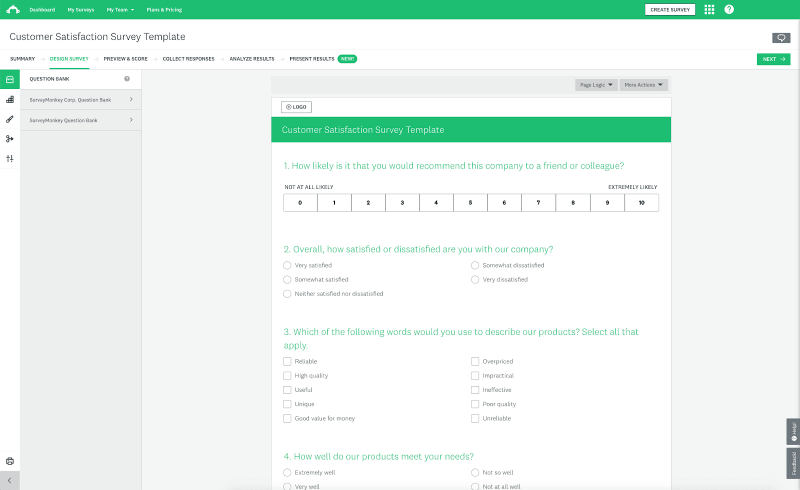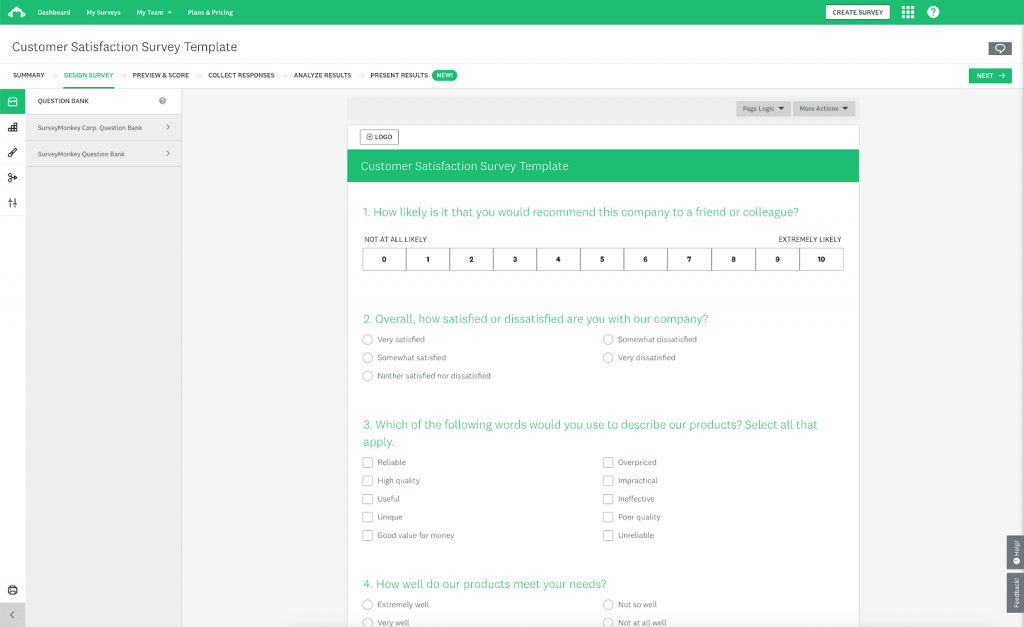 Source: Survey Monkey
Survey Monkey is a straightforward tool with a simple and intuitive design.
If you want to create multimedia surveys, you will love this tool. It allows you to add different media types like images, audio and even video.
It's also optimized for mobile devices—all you have to do is choose a mobile-first template that will make it easier to complete.
Survey Monkey allows you to interpret your data on a deeper level by integrating with other software. It supports over 100 integrations, from Zoom to HubSpot.
If you want to gather more customer insights but people are unwilling to participate, with Survey Monkey you can pay your target audience to provide you with survey data.
The main downside of this platform is its low level of customization.
Some users complained that the surveys are too plain and simple which could lead customers to lose interest and leave before they complete them.
Pricing:
Team Advantage: $30 per month

Team Premier: $75 per month

Enterprise: custom price
Google Forms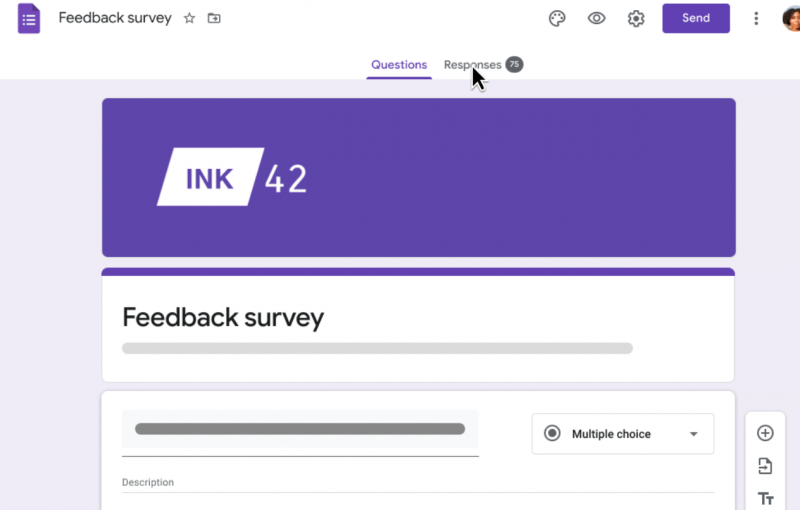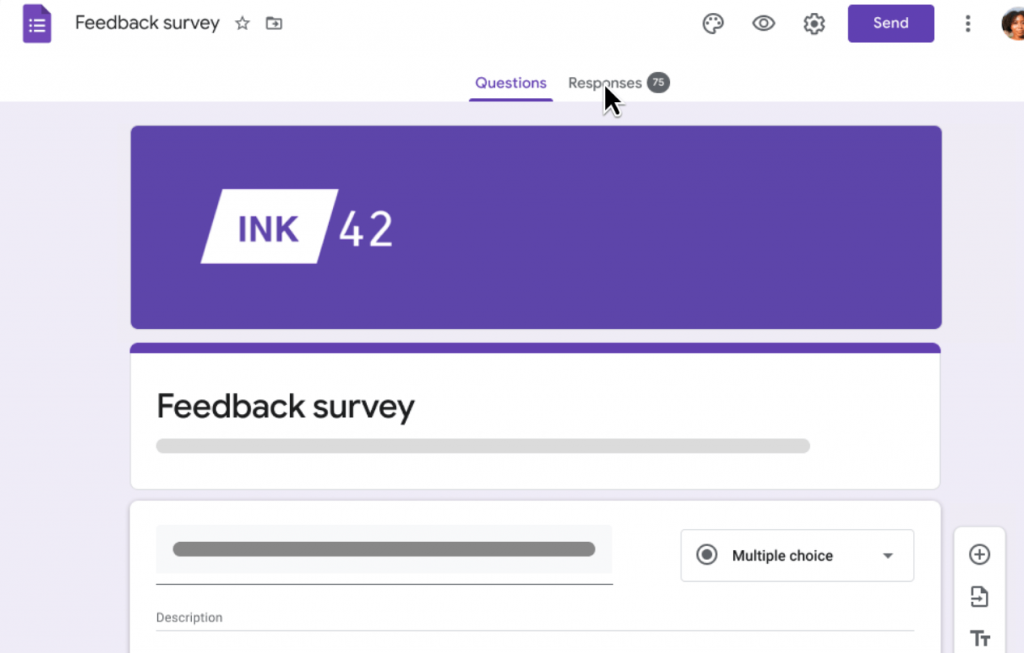 Source: Google Forms
The best thing about Google Forms is that everyone can use them, even those that are not tech-savvy.
You don't have to install anything, Google Forms are available to anyone with a Google account.
There are not too many options, meaning that creating a new form is easy and doesn't require technical knowledge.
Also, Google Forms are free and that's why many non-profit organizations use it.
However, Google Forms have many limitations.
First, survey design customization is very limited and on some occasions, it doesn't seem professional to send a Google Form to your business partner or customer. It seems like your organization didn't want to put a lot of effort into creating the survey.
Second, it integrates only with other Google applications, but it doesn't integrate with third-party apps.
Third, if you opt for a free account, you get limited cloud storage.
Finally, it offers only basic reporting and analytics, which often may not be enough.
To sum it up, Google Forms may be a good option for starters, but if you want to create professional surveys, we suggest you check out tools that offer more customization.
Pricing:
Free

Business: $12 per user per month
Survey Sparrow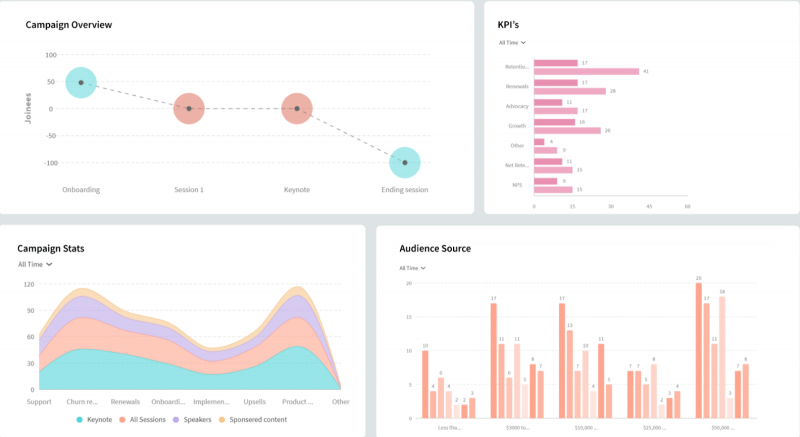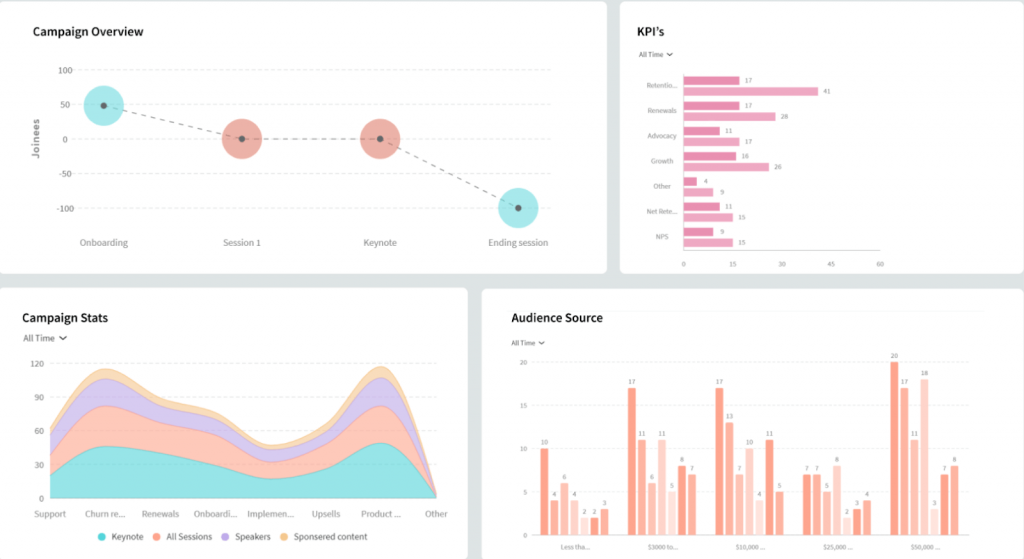 Source: Survey Sparrow
Survey Sparrow can be a good solution for those that want to map out the whole customer journey and uncover insights that will help you optimize it.
You can send multiple surveys to your customers during different phases of their journey. Survey Sparrow allows you to visualize how customer experience changes through different touchpoints.
You also get to track all the metrics important to you through the different phases of the customer journey. That can help you discover any blind spots and improve customer experience and retention.
Moreover, Survey Sparrow is a mobile-first solution, meaning that surveys are fully optimized for smartphones (unlike other apps that make it difficult to fill out the survey from your phone).
They don't look like old, boring surveys, the interface looks more like a chat app, which motivates people to answer and increases response rates.
Unfortunately, if you deal with a lot of data, this may not be a perfect solution for you. Some options are lacking, for example, you can't bulk copy or delete the audience list, you have to do all that manually.
Pricing:
Business: $99 per month

Enterprise: $499 per month

Elite: custom price
Survey Planet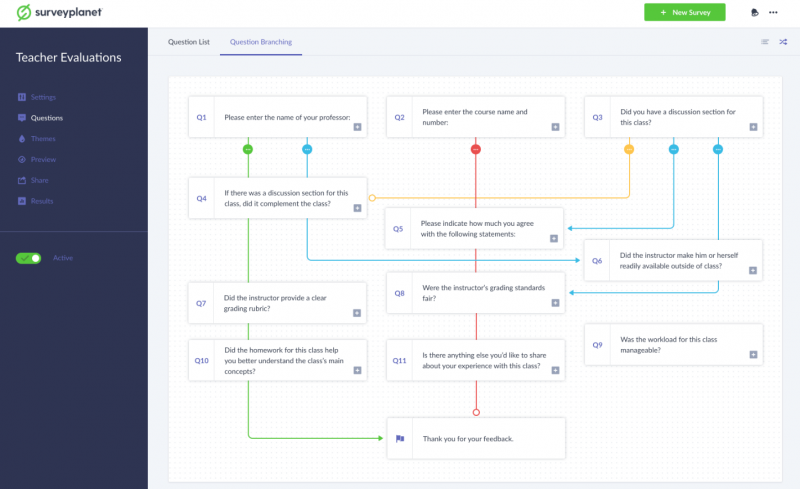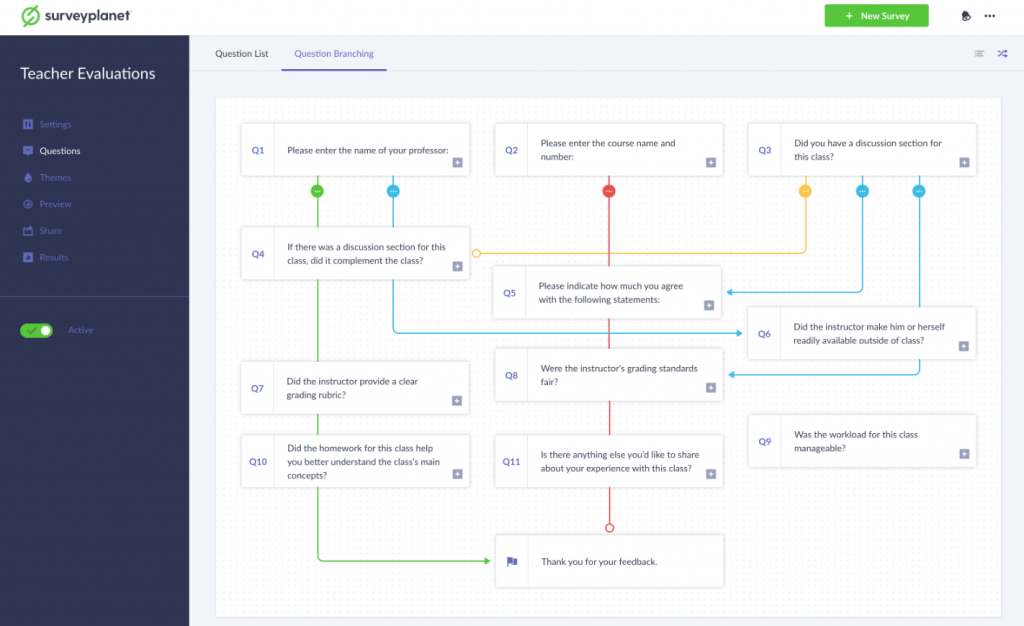 Source: Survey Planet
Survey Planet is an app with an intuitive interface, ideal for creating quick online surveys when you don't have a lot of time.
The best thing about this software is that it allows you to create an unlimited number of questions and collect an unlimited number of responses, even in its free version!
It comes with 90 pre-written surveys for all occasions one can think of: from market research to employee feedback surveys.
All the templates are ready to use, but you can also customize them if you want to change the design, add more questions, etc.
If you work in an international organization, you'd love to hear that pre-written surveys are available in 30 world languages, which can save you a lot of time and money you'd spent on translation.
If you purchase the Enterprise version you'll be able to access some more advanced features such as location map, bounce rate or device usage.
Survey Planet is available on smartphones and tablets, but many users said that the smartphone version is not up-to-date. This could be a problem if your respondents are accessing the survey from their phones and not company computers.
Pricing:
Free basic plan

Pro: $20 per month/$180 per year

Enterprise: $350 per year
Zoho Survey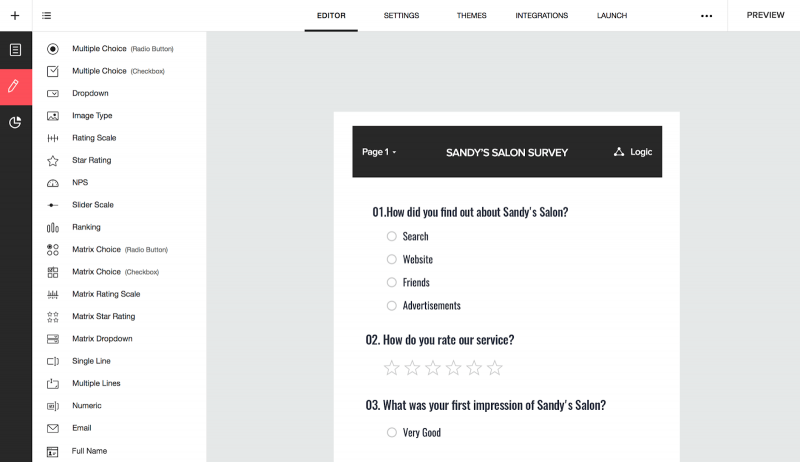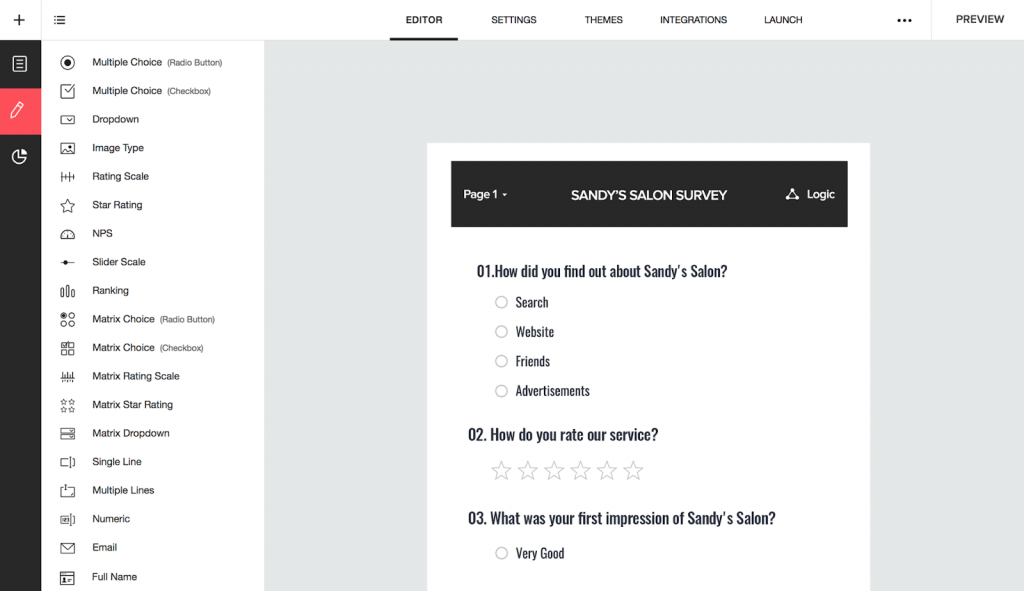 Source: Zoho Survey
Zoho is a highly customizable and easy-to-use enterprise survey software.
Even if you've never made a survey before, you can create one within minutes, thanks to pre-made templates.
It offers more than 200 templates, allowing you to create all kinds of surveys and questionnaires.
Everything is based on the drag-and-drop principle and you can easily customize question formats and designs.
If you don't have enough participants, Zoho can purchase more answers, from the target population.
Buying answers is safe and transparent, and, most importantly, you get accurate answers from a population that matches all of your criteria such as location, gender, age, income, etc.
Zoho is great to increase response rates and get feedback from more people, but if you need a deeper analysis this tool may not be the right for you.
In that case, you may want to check out tools with more powerful analytics.
Pricing:
Plus: $25 per month

Pro: $35 per month

Enterprise: $75 per month
Typeform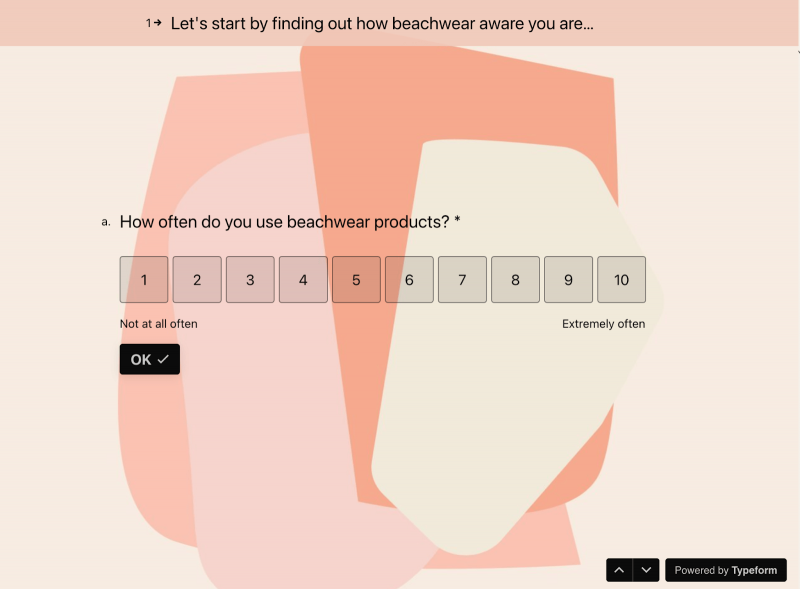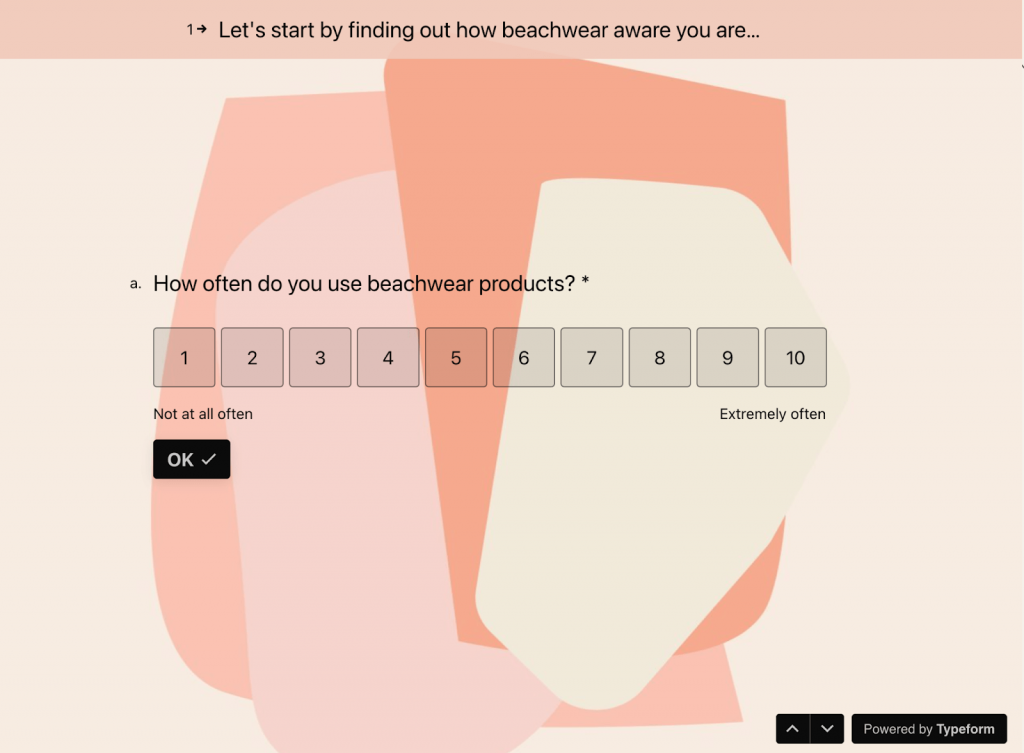 Source: Typeform
Typeform is an enterprise survey software with a clear interface and minimalistic design.
It increases the number of responses you get by providing personalized question flows.
You can create different flows that guide your customers from one question to another, based on their previous answers. Not only does this make filling out a survey faster, but it also improves customer experience as they don't have to go through irrelevant questions.
You can integrate Typeform with your CRM and use it to guide customers to the next stage of their customer journey.
When they fill out the form, they get automized follow-up, which can be a Thank You screen or a redirection and link sending them to your landing page, discount code, etc.
Typeform is great for creating and distributing surveys, and even for decreasing survey abandonment rates, but it's not the best solution for survey data analytics.
If you want to analyze complex surveys and get deeper insights into your customers' behavior, you might need to combine it with some other tool.
Pricing:
Basic: $25 per month

Plus: $50 per month

Business: $83 per month

Enterprise: custom price
QuestionPro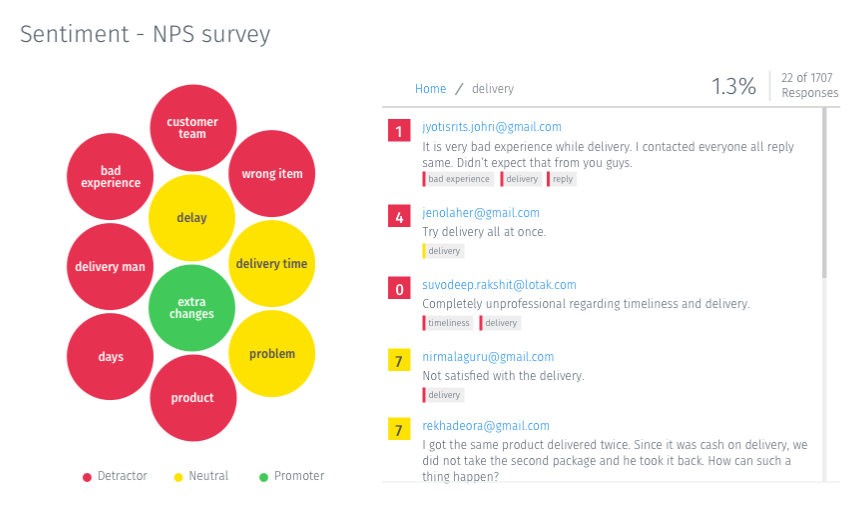 Source: QuestionPro
QuestionPro might be the perfect enterprise survey software for you if your surveys have many open-ended questions, and here is why.
One thing that sets this software from the rest is advanced sentiment analysis which allows you to analyze large quantities of open-ended responses and see what the underlying sentiment behind them is.
Sentiment analysis is based on deep learning and AI technologies, such as NLP (Natural Language Processing).
They analyze the text and they can tell you whether the response is positive, negative, or neutral, based on certain words and tone of voice.
This can be great if you want to go beyond numbers and statistics and analyze the quality of the responses to get more insights.
It's also great if you don't have enough staff to analyze a large quantity of data manually or if you simply want to speed up the process and get accurate results.
QuestionPro also has a great user interface and it's a very visual platform. It shows your data in bubbles, where each bubble color represents one sentiment.
On the con side, some users said that the platform could be a bit overwhelming, with too many features to figure out. That said it may not be ideal for you if this is your first time using enterprise survey software.
Pricing:
Essentials: free

Advanced: $99 per month

Team: custom price
Survio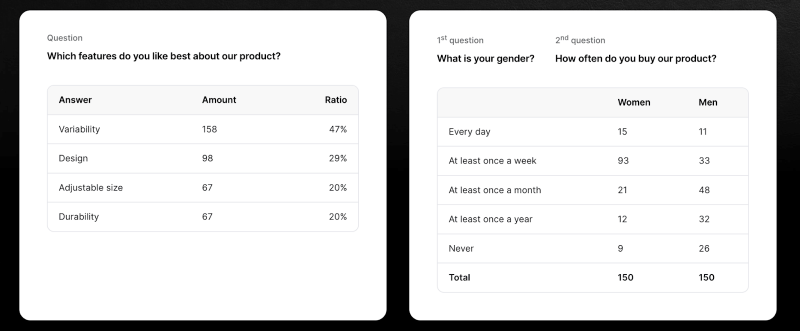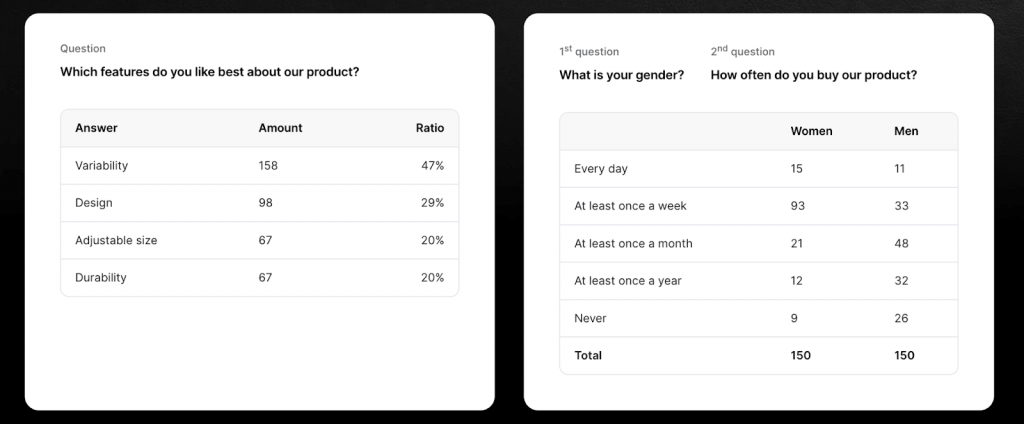 Source: Survio
The thing that we like about Survio is that you can get a real-time result evaluation within minutes.
The charts are constantly updating and you can check how the results change after every response.
Another thing that Survio is doing well is response segmentation, based on different filters, such as date of completion, age, gender or the channel from which respondents access the survey.
To get a deeper understanding, you can view the data of each subsidiary separately.
Survio offers three different pricing plans, but the prices for some additional features are not completely transparent.
If you opt for a cheaper plan you may run out of space to store new responses and you won't be able to see them unless you upgrade. The catch is that you are allowed to create an unlimited number of questions but you can only collect 1000 responses per month.
Pricing:
Starter: $78 per month

Medium: $300 per month

Enterprise: custom price
Crowdsignal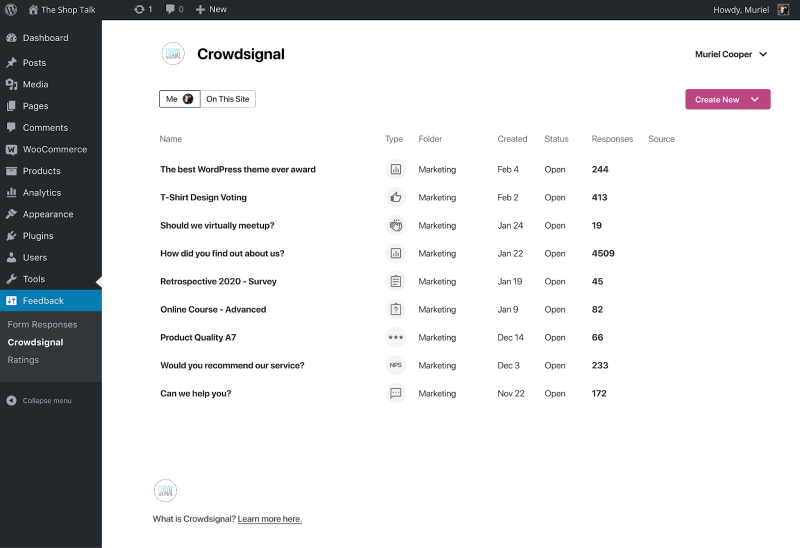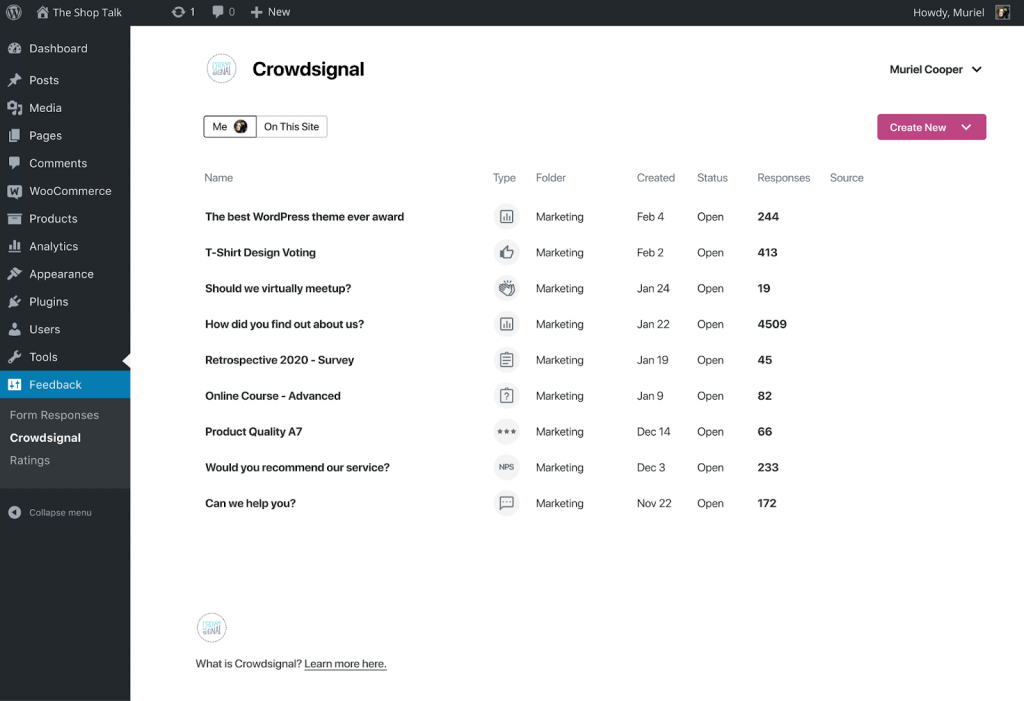 Source: Crowdsignal
Crowdsignal is a highly customizable software with an intuitive interface.
What we like about this software is that you can share and embed your enterprise surveys everywhere.
There is a Crowdsignal plugin that allows you to create and edit surveys directly on your WordPress admin.
You can customize your survey design and add your logo and brand colors.
If you don't want to bother with WordPress, you can create a survey on the Crowdsignal platform but when you share the link with the users, you can choose to use your own URL – no one has to know that you used this service.
Crowdsignal can also be a good option for email surveys and email marketing. People can answer directly from their inbox without having to open another page. This reduces friction and as a result, it could increase the percentage of responses you get.
On the negative side, you may need a more advanced tool to segmentize data, generate reports and get actionable insights.
Pricing:
Free version

Premium: $15 per month

Business: $45 per month

Team: $29 per user per month
Mistakes to watch out for when selecting survey software
Here are the most common mistakes people make when choosing enterprise survey software.
Lack of API & custom integration:

The first thing is to check whether the software has enough API & Webhook automation potential. Since you're looking for enterprise-level survey software, it's definitely not enough to get basic integrations. In most cases you need to create your own.

Lack of customization:

Ensure that the software provides a high level of customization. We're talking both about survey design (branded design, a branded palette of colors, etc.) and survey form (question groups, personalized question flows, etc.) and custom URLs.

Desktop-only survey:

Some tools don't have a mobile version or if they do, the user experience is not meeting the standards. Before you purchase any software, make sure to check what would your online survey look like on mobile, tablet, and computer.

Low data security:

First, you must ensure that the software is GDPR, HIPAA or SOC2 compliant. Second, check which hosting they use and whether it's safe and secure. Finally, make sure that you have full control over your data privacy.

Low-quality reporting:

A good enterprise survey software allows you to segmentize your data in different ways, make a crosstab report and share survey data with collaborators.
Comparison Table
| | | | | | | | | | | |
| --- | --- | --- | --- | --- | --- | --- | --- | --- | --- | --- |
| | Checkbox | Survey Monkey | Google Forms | Survey Sparrow | Survey Planet | Zoho Survey | Typeform | QuestionPro | Survio | Crowdsignal |
| Surveys | ✅Unlimited | ✅Unlimited | ✅Unlimited | ✅Unlimited | ✅Unlimited | ✅Unlimited | ✅Unlimited | ✅Unlimited | ✅Unlimited | ✅Unlimited |
| Questions | ✅Unlimited | ✅Unlimited | ✅Unlimited | ✅Unlimited | ✅Unlimited | ✅Unlimited | ✅Unlimited | ✅Unlimited | ✅Unlimited | ✅Unlimited |
| Responses | ✅Unlimited | ✅Unlimited | ✅Unlimited | ❌Limited | ✅Unlimited | ✅Unlimited | ❌Limited | ❌Limited | ❌Limited | ❌Limited |
| Branded surveys | ✅Yes | ✅Yes | ❌No | ✅Yes | ✅Yes | ✅Yes | ✅Yes | ✅Yes | ✅Yes | ✅Yes |
| Custom URL | ✅Yes | ❌No | ❌No | ✅Yes | ✅Yes | ❌No | ❌No | ✅Yes | ✅Yes | ✅Yes |
| Cloud-hosted | ✅Yes | ✅Yes | ✅Yes | ✅Yes | ✅Yes | ✅Yes | ✅Yes | ✅Yes | ✅Yes | ✅Yes |
| On-premise | ✅Yes | ❌No | ❌No | ❌No | ❌No | ❌No | ❌No | ❌No | ❌No | ❌No |
| Free trial | ✅Yes | ✅Yes | ✅Yes | ✅Yes | ✅Yes | ✅Yes | ✅Yes | ✅Yes | ✅Yes | ✅Yes |
Conclusion
By now, you should have a better understanding of all the options that enterprise survey software can offer.
You should think about what are your needs and your priorities and then choose the one for you.
But with Checkbox, you don't need to choose between features. The truth is you can have it all.
If you want to increase your response rates with branded surveys that come with effortless automation and integration and try all that for free, we've got you covered.
Try it now and see why major companies trust us with their surveys.
FAQ
What is Enterprise Survey Software?
It's software that allows companies to create and distribute surveys at scale. It's also used for reporting and interpreting survey results. It can be used for various purposes, from getting customer feedback to peer evaluation.
Which platform is best for Survey?
Everything depends on your needs and your current priorities. What is the most important to you – customization, getting a large number of responses, price? If you want one platform that has it all, the best solution is Checkbox software.
What software is used for surveys?
There are many different survey software, depending on what kind of online survey you want to create. If you're looking for a free platform, you can check Google Forms. However, if you need something with more advanced analytics and reporting, we suggest you opt for a paid enterprise survey platform.