This past February my husband and I stayed at a hotel in San Diego for two nights. As expected, after our stay we received an email thanking us for our business and requesting that we comment on our stay.
As you can see below, the email invitation we received was thoughtfully prepared, clearly presenting:
who the email was from
why we received the email
how to access the survey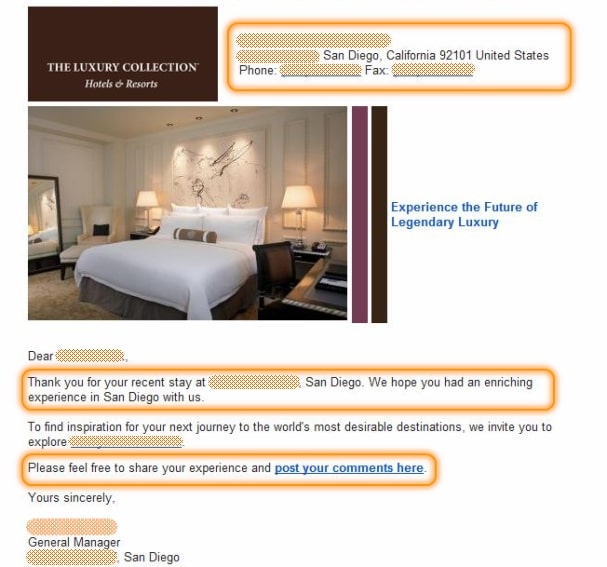 I have two critiques for this email invitation.
Issue #1: What's in it for me?
One thing this email invitation is missing is a one-liner about about how the recipient can benefit from providing feedback. Sharing benefits or incentives almost always improves a survey's response rate. In this case, a good incentive might be credit toward another stay for responding. A benefit could be as simple as letting the customer know that their comments could make a difference in improving the hotel for future stays.
Issue #2: Survey link should be front & center
The survey link should be re-positioned higher in the message body to sit above the "To find inspiration for your next journey…" paragraph, which also contains a link:
Generally, if an email recipient is going to click on a link in the message text, it's likely to be the first link they come to. In this example, that first link navigates recipients to the hotel website, away from the email and survey link. This instantly reduces the likelihood of a customer returning to the email and taking the survey. Going a step further, if the primary goal of the hotel is to collect customer feedback, they may want to minimize confusion by removing all links other than the link to their survey. That said, if the primary goal of the hotel is not to collect feedback but to send customers to their website, the current layout of the links works just fine.