Two ways to visualize your results: Reports and Dashboards
There are two ways to visually report on your survey reports in Checkbox – by using the standard/default Report and by using Dashboards. 
The default Report is accessed by clicking the survey's report icon from the survey dashboard or by clicking the Report tab of the survey. The default Report is generated by Checkbox and has minimal customization options. It is most handy when you need visual results quickly or don't want to spend time building out a report. Keep reading to learn more about viewing, customizing, and sharing the default Report.

Dashboards are created/edited/viewed by navigating the main Dashboards menu and either clicking Create Dashboard or searching for an existing Dashboard.
Dashboards have more customization options than the standard report and can include charts from multiple reports, but must be either built from scratch or copied from an existing report. For more information on working with Dashboards, please view our Custom Dashboards guide.

Working with the standard Report
If you'd like to view and/or share your survey results quickly and easily, the standard Report (formerly known as the Quick Report in version 6) is a handy tool. The Report tab of your survey is automatically generated by Checkbox and will include charts and graphs for all your survey questions. It can be viewed, exported to PDF, and shared via link.
How it Works:
A standard Report is automatically created for each survey based on the question types in your survey and the default report settings located in Accounts Settings -> Reports. Your account's System Administrator can change these settings at any time, which will affect all standard Reports in your account: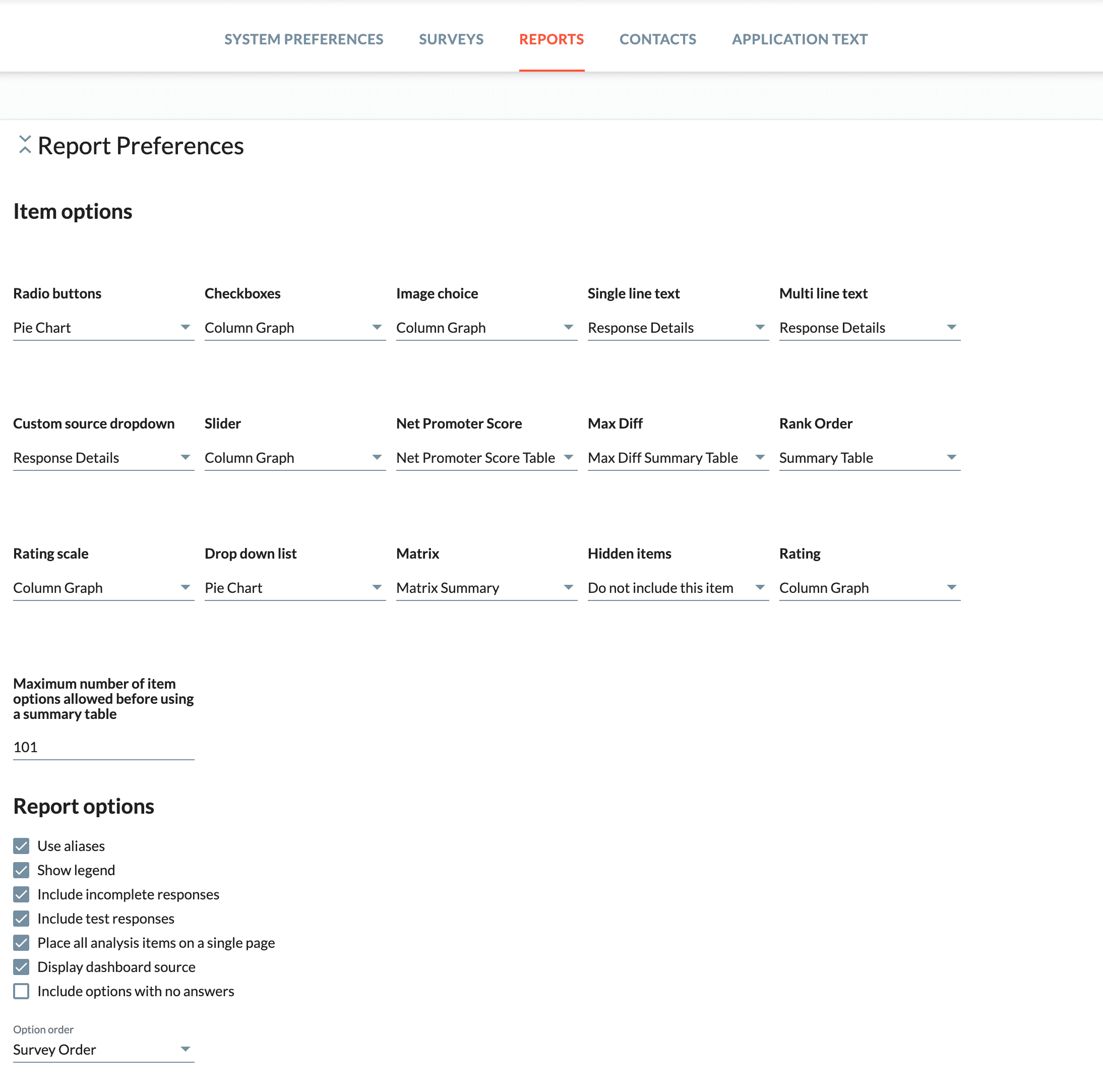 Standard Report Overview Options
The following options can be customized on the Overview tab of each report:

Print and Export: Click the Print icon on the Overview tab to print your report or export a copy to PDF. Note that Live Filters do not print or export. To print or export a filtered subset of your report results, click the Add Report Filter button and save your filter.
Filters: You can create and save filters that are applied to your report by clicking the Add Report Filter button. You can also use Live filters to view a subset of your data. Live filters are not saved or printed – they are meant for dynamic viewing of results and are reset each time the report is run. Learn more about filters in our Report Filters guide.
Copy: The Copy button allows you to create a copy of your report and save it as a custom Dashboard. This feature is handy if you'd like to save multiple filtered copies to share with different report viewers. Since the standard Report only allows for certain customizations, you can also create a copy if you'd like to modify or delete any charts or add additional chart types like cross-tabs or average score charts.
Refresh: Click the Refresh icon to ensure that you are viewing the latest version of your report, especially if you have made recent edits to your survey or have collected new responses since you last viewed your report.
Standard Report Settings
Your standard Report includes several settings that you can enable/disable for each survey's report:
Display dashboard source: This setting allows you to display the survey name for each chart
Use aliases: This setting will cause your report to display alias text if you have specified alias values for your survey's questions and answers. For more information on this feature, see our Alias guide.
Show legend: This setting will show or hide chart legends for all applicable charts.
Option Order: You can choose how to display the order of your answer options in your charts – in the order they appear in your survey (default), in descending order based on the number of responses for each option, or in alphabetical order.
Include incomplete responses: Choose to include both completed and partial responses in your report results.
Include test responses: Choose to include both test and non-test responses in your report results.
Enable Live Filtering for all users: Choose to display the Live Filter icons when you share your report with other users. This will allow them to filter your report to view subsets of the data. If you don't want other users to be able to drill down into your results, leave this option unchecked.
Include options with no answers: Display the options with zero responses in your chart legend.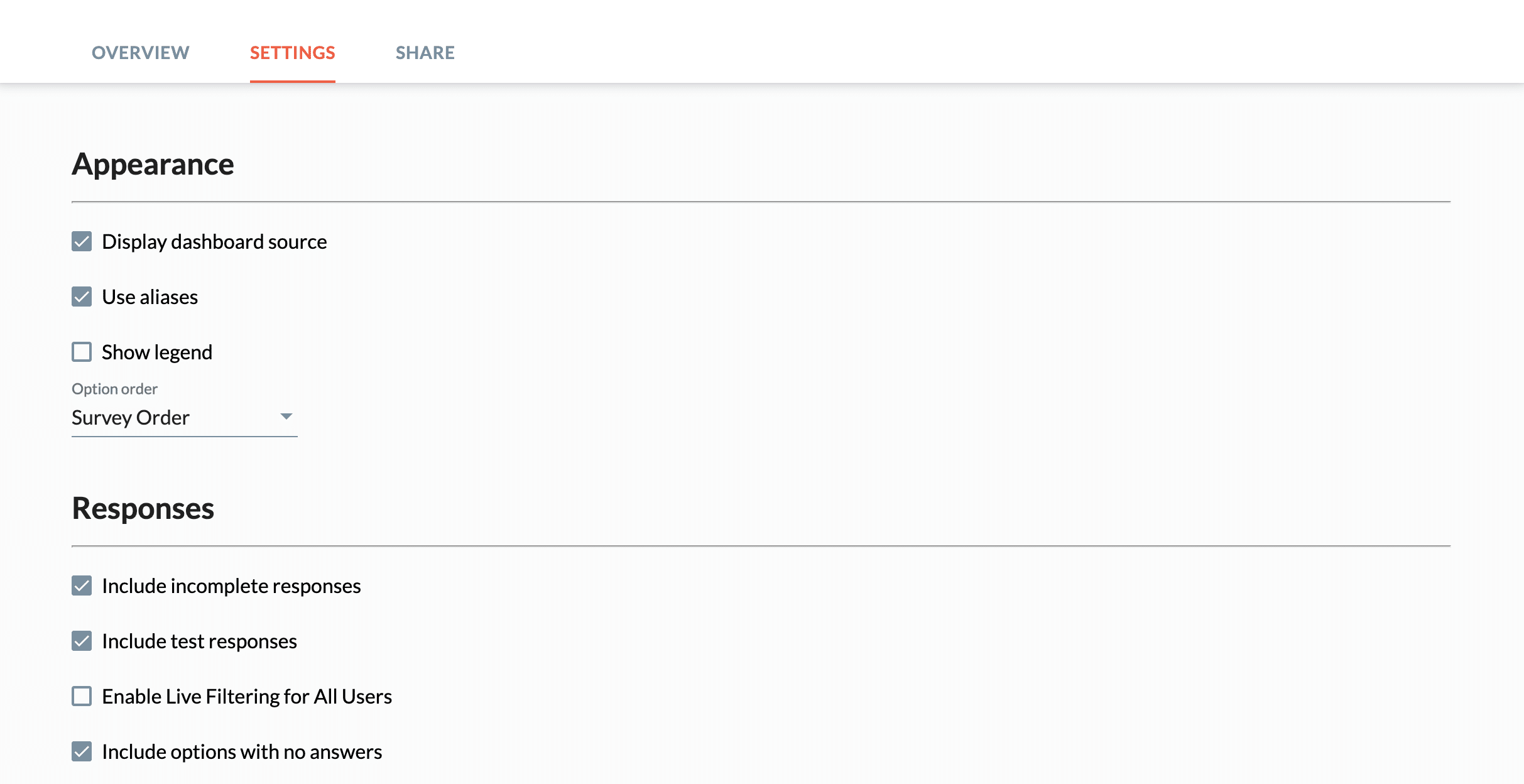 Sharing a standard Report
If you go to the Share tab for your Report, you will see a link that can be copied and pasted in order to share your report with other users. In order for someone to access the report, either a) the link has to be publicly accessible or b) the user must be logged in to Checkbox and be on the "Access List" for the report. Click the Dashboard Access List button to enable either of these sharing options.
To make your Report public, meaning anyone you share the link with (or that they subsequently forward the link to) will be able to view the report, click the Dashboard Access List button and then select "View Report" under Default Policy.

To share your Report with only certain users, click the Dashboard Access List button and then add your Contacts or Groups to the Access list. Depending on the options you select, you can choose to give your Contacts/Groups access to view, edit, and/or fully manage your report. Note that Contacts on the Access List will need to log into Checkbox when they click the report link.